Last Updated: 11/11/2015
Dr. Richard Simon, Associate Director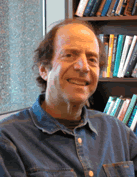 Richard Simon, D.Sc., leads the Biometric Research Program and is chief of the Computational & Systems Biology Branch. Dr. Simon holds a doctoral degree in Applied Mathematics & Computer Science from Washington University in St. Louis, MO. He has developed many of the statistical methods used in cancer clinical trials. These include dynamically stratified randomization, optimal 2 stage phase 2 clinical trial designs, accelerated titration phase 1 designs, stochastic curtailment for futility monitoring, tests of qualitative treatment by covariate interactions, predictive biomarker based enrichment designs, adaptive biomarker driven clinical trial designs and Bayesian methods for subset analysis, factorial clinical trials, and active control clinical trials. Dr. Simon is a leader in the area of the development and use of predictive biomarkers in therapeutic research. Dr. Simon has authored or co-authored over 400 peer-reviewed publications and three books: Design & Analysis of DNA Microarray Based Investigations, Genomic Clinical Trials & Predictive Medicine, and Design and Analysis of Clinical Trials for Predictive Medicine.
In 1998 Dr. Simon established a multidisciplinary group of statistical, computational and biological scientists to develop and apply methods for the application of high-dimensional genomic and proteomic data to cancer research. This group expanded over the years and became the Computational & Systems Biology Branch. Dr. Simon has received training, including laboratory training, in genomics and biotechnology at Cold Spring Harbor Laboratory and at the NIH FAES. Dr. Simon has published many papers on the analysis of genomic data and has trained many postdoctoral fellows in computational and statistical cancer genomics. Dr. Simon is the architect of software that empowers biologists and pharmacologists to analyze and interpret genome-wide data including BRB-ArrayTools and the Translational Pharmacology Workbench. BRB ArrayTools has over 15,000 registered users in 65 countries; it has been cited in over 2,000 publications and won a prestigious Award for Excellence in Technology Transfer from the Federal Laboratory Consortium for Technology Transfer in 2012.
Dr. Simon is an elected fellow of the American Statistical Association, a member of the National Research Council Committee on Theoretical & Applied Statistics and a former member of the FDA Oncologic Drug Advisory Committee. He received the 2013 Karl Peace Award from the American Statistical Association for "outstanding statistical contributions for the benefit of society."
About the
Associate Director

Richard Simon, D.Sc., leads the Biometric Research Program and is chief of the Computational & Systems Biology Branch. Dr. Simon holds a doctoral degree in Applied Mathematics & Computer Science from Washington University in St. Louis, MO. More…
For More Details
About BRP


Visit the BRP Website