Last Updated: 06/12/2018
DCTD's Cancer Imaging Program Convenes 10th Annual Meeting of the Quantitative Imaging Network
DCTD's Cancer Imaging Program manages the Quantitative Imaging Network (QIN), which is a cooperative agreement program consisting of 16 members from across the United States. The QIN represents the intersection of imaging science, informatics, clinical research, and industrial commercialization. The QIN's goal is to develop and validate quantitative imaging tools to measure or predict response to cancer therapies. These tools consist of software algorithms and data collection protocols to extract information from patient images. The QIN program is demonstrating that the quantitative information in images can serve as measures of therapy response or as biomarkers to predict patient outcome.
The QIN research teams held their 10th annual meeting on May 17 - 18, 2018 (agenda). Associate members from the United States and across the world also participated, and new members from the Charite-University of Berlin and University College Cork presented summaries of their QIN-related research.
The theme of the 2018 QIN meeting was tool validation in the NCI's National Clinical Trials Network (NCTN). Among the nine scientific sessions were the following presentations:
Nancy Obuchowski, PhD, Cleveland Clinic - Overview of the Statistical Considerations for Implementing Profiles into Clinical Trials
Erich Huang, PhD, Biometric Research Program, NCI - Study Design and Analysis for Tool Validation
The meeting also included posters, breakout sessions, and live demonstrations of tools from several teams. Each year, team members demonstrate the functions of tools at different levels of completion and receive valuable feedback from QIN members to guide improvements.
The plans for the network activity next year include increased emphasis on bringing quantitative tools into clinical evaluation in NCTN trials. Making these tools clinically functional to fit into clinical workflow in cancer patient care is particularly important.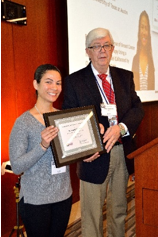 Angela Jarrett, PhD, University of Texas at Austin, receives the QIN Larry Clarke Young Investigator Award from Robert Nordstrom, PhD, NCI, at the 10th QIN Annual Meeting