Last Updated: 12/14/2020
The NCI Experimental Therapeutics Clinical Trials Network (ETCTN) Expands Clinical Trial Outreach through Administrative Supplements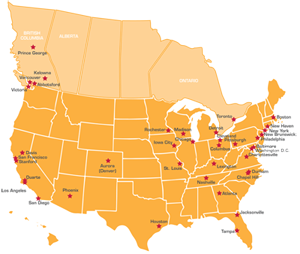 The NCI Experimental Therapeutics Clinical Trials Network (ETCTN), within DCTD's Cancer Therapy Evaluation Program (CTEP), is comprised of 33 sites across the US and Canada that develop novel NCI-Investigational New Drug (IND) anticancer agents alone or in combination within biomarker-rich phase 1 and phase 2 clinical trials.
The ETCTN is expanding its support of precision medicine clinical trials through the following two administrative supplements to NCI Cancer Centers:
Summary of 2020 NCI ETCTN Administrative Supplements to Cancer Center Support Grants
EDDOP
CATCH-UP 2020
Overview
Support NCI-Designated Cancer Centers not affiliated with the ETCTN to participate in ETCTN trials
Support NCI-Designated Cancers Centers with established clinical outreach programs in underserved racial, minority, or rural populations that already have the clinical and research infrastructure to participate in ETCTN trials
Objectives
Provide investigators from non-ETCTN NCI-Designated Cancer Centers support to lead an ETCTN clinical trial with CTEP IND agents
Activate ETCTN trials at NCI Cancer Centers and recruit minority/underserved populations to NCI cancer clinical trials
Provide investigators from non-ETCTN NCI-Designated Cancer Centers support to accrue patients to select ETCTN phase 2 clinical trials
Improve and maintain minority/underserved patient participation in NCI cancer clinical trials
2020 Project Leaders and Institutions

EDDOP Leadership Grant Awardee

Duke University

EDDOP Accrual Grant Awardees

University of Chicago

Case Western Reserve University

Roswell Park Cancer Center

Mount Sinai New York

University of Michigan

Susan M. O'Brien, MD
Chao Family Comprehensive Cancer Center

Alexandra Thomas, MD
Wake Forest Baptist Comprehensive Cancer Center

Janice M. Mehnert, MD Perlmutter Cancer Center of New York University Langone Health

Joaquina Baranda, MD
University of Kansas Cancer Center

Amitkumar Mehta, MD
O'Neal Comprehensive Cancer Center at University of Alabama, Birmingham

Jonathan Trent, MD
University of Miami Sylvester Comprehensive Cancer Center

Jason Faris, MD
Norris Cotton Cancer Center

Anthony Shields, MD
Barbara Ann Karmanos Cancer Institute
Investigators should contact the appropriate Drug Monitor in CTEP's Investigational Drug Branch, CTEP to submit Letters of Intent for EDDOP.
CATCH-UP 2020 is a one-time supplement; however, once an administrative supplement is awarded, it is anticipated that collaborations will develop between NCI Cancer Centers, local area providers, public health practitioners, and other public health professionals to utilize an NCI Cancer Center's infrastructure to open ETCTN trials at their clinical sites, to recruit minority/underserved patients to these ETCTN trials, and to provide resources to maintain participation on ETCTN trials until the patient's endpoint for the trial is achieved.
For more information on these ETCTN administrative supplements, contact Drs. Percy Ivy ivp@ctep.nci.nih.gov or Charles Kunos charles.kunos@nih.gov.