Last Updated: 10/10/2019
NCI Convenes 2019 Annual Principal Investigators Meeting of the NCI Alliance for Nanotechnology in Cancer
The NCI Alliance for Nanotechnology in Cancer (the Alliance) was launched in 2005 to incorporate nanotechnology-based materials, devices, and tools into cancer research. Since its inception, the program has grown into a strong, biologically and clinically driven effort relying on novel use of nanotechnologies to improve effectiveness of cancer interventions.
The Alliance is a combination of several funding mechanisms:
NCI convened its Annual Principal Investigators Meeting of the Alliance on September 24-26, 2019 (agenda). This was the fourteenth annual gathering of 100-150 investigators of different levels of experience, including project Principal Investigators, project leaders, post-doctoral fellows, students, and federal employees. This two-and-a-half-day gathering included:
presentations and poster sessions providing updates of currently funded grants
invited presentations on future research and clinical strategies in cancer nanotechnology
discussions on pressing issues needed to advance the field
Recognizing the maturation of cancer nanotechnology and its integration into the mainstream NCI grant portfolio, NCI will retire the CCNE program in the summer of 2020. The CCNEs are credited with:
building an effective multi-disciplinary research environment
developing and translating novel technologies from academia to the clinic and commercial space
developing technologies that resulted in the formation of more than 100 start-up companies and entered more than 20 clinical trials
NCI's interest in funding nanotechnology for cancer remains strong: the overall budgets supporting nanotechnology efforts in the institute grew from $100 million in 2008 to more than $200 million in 2018.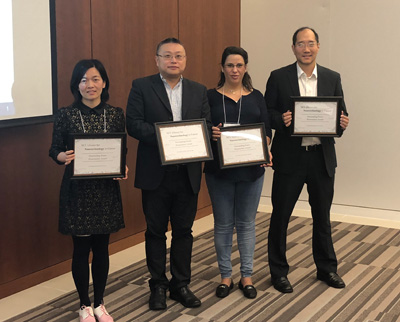 Outstanding Poster Presentation Awardees at the Principal Investigators Meeting (L to R: Yazhen Zhu, UCLA; Gang Han on behalf of Nhung Nguyen, University of Massachusetts; Yara Kadria-Vili, Rice University; Andrew Lee on behalf of Shuya Wang, Northwestern University; Not pictured — Luman Liu, Iowa State University)