Last Updated: 04/27/2022

In this April 2022 Issue:
STAFF HIGHLIGHT — Henry Rodriguez, PhD, MBA, Director, Office of Cancer Clinical Proteomics Research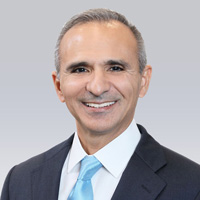 Dr. Rodriguez describes how his interest in biomedical science evolved and led to the launch of cancer proteogenomics research at NCI.
A cross-country journey
I am a first generation Cuban American, born and raised in Miami. With an early interest in science, I studied biology, chemistry, and toxicology near home at Miami Dade College and then Florida International University. After my bachelor's and master's degrees, I headed north to Boston University in 1988 to pursue a doctoral degree in cell and molecular biology. I left the East Coast for California, having accepted a research fellowship in immunology at the Scripps Research Institute in La Jolla. Shortly after my arrival at Scripps, my mother was diagnosed with breast cancer - I'm grateful that she is a long-term survivor (twice). My mom's experience really impacted me, so I quickly moved to the City of Hope Cancer Center in LA in 1993 for another fellowship, but this time to focus on cancer research. I trained in Dr. Steve Akman's lab where I was first exposed to the application of genomics. Dr. Akman was deputy director of the Department of Medical Oncology at City of Hope, and he reported to the director at that time, Dr. Jim Doroshow.
On a whim, I accepted an invitation from a director at the National Institute of Standards and Technology (NIST) to visit their labs in 1998. When I first arrived in the DC area, it was springtime, and I thought it was beautiful; I've loved it here ever since. I accepted a challenging and exciting position at NIST to help establish a clinical diagnostics metrology program. I worked in research (developed DNA standard reference materials), policy (at the DHHS Secretary's Advisory Committee on Genetic, Health and Society), and management (founded a Cell & Tissue metrology group) during several years at NIST. Following an interest to understand the business of science, I pursued an MBA at Johns Hopkins University. By 2003, I had an interesting educational and research background - biomedical research with a focus on mechanisms of cancer in basic and clinical science; development of measurement science, standards, and technology; and business. I fully intended to pursue a job in industry, but I missed the connection to patient care that I had when I was in LA at City of Hope Cancer Center.
Returning to a familiar collaboration
NCI wanted to address the lack of rigor and reproducibility associated with proteomic technologies, so in 2006, I joined NCI as the director of the Clinical Proteomic Technologies for Cancer Initiative in the Office of Technology and Industrial Relations. This initiative became what is now the Clinical Proteomic Tumor Analysis Consortium (CPTAC), part of the Office of Cancer Clinical Proteomics Research (OCCPR), of which I became its founding director in 2010. Coincidentally, in this new appointment, I began to explore with Dr. Doroshow, now DCTD's director, how to bring CPTAC's science and analytical expertise to NCI/DCTD-supported clinical trials.
After 15 years moving towards applying state-of-the-art proteomic and genomic integrated approaches to better understand tumor biology related to specific treatment(s), OCCPR moved to DCTD. OCCPR fits naturally within this forward-looking NCI division, and this change allows us to work closely with staff across the breadth of DCTD's programs. OCCPR supports NCI's strategic plans and policies in proteome and proteogenomic science and its translation to patient care through extramural and intramural programs, partnerships with federal agencies, and collaborations with domestic and international institutions. OCCPR's work includes:
CPTAC

Nationwide, cooperative partnership of research centers
Pioneered the integration of proteomics with genomics (proteogenomics) to accelerate the understanding of the molecular basis of cancer
Maintains some of the world's largest public repositories of proteogenomic data and targeted proteomic fit-for-purpose assays

Cancer Moonshot-inspired Programs

International Cancer Proteogenome Consortium (ICPC)
Partnership of 14 countries/34 institutions to develop and coordinate proteogenomic research projects and make datasets available to the public
Applied Proteogenomics OrganizationaL Learning and Outcomes (APOLLO) Network
Partnership among NCI, Department of Defense, and Department of Veterans Affairs to screen people with cancer for proteogenomic abnormalities and match their tumor types to targeted cancer therapies

NCI Antibody Characterization Laboratory at the Frederick National Laboratory for Cancer Research (FNLCR)

Produces publicly available standardized and well-characterized fit-for-purpose antibodies

NCI Proteomic Assay Portal

Extensive public repository of "fit-for-purpose," multiplexed quantitative mass spectrometry-based proteomic targeted assays

NCI Proteomic Data Commons

Researchers can access proteomic and accompanying molecular data sets from the same tumor (e.g., genomic and imaging)

Proteome Characterization Laboratory at FNLCR

Develops and implements standardized proteomic measurements for projects within DCTD, soon to be available for the NCI research community to enhance translational cancer research
On the precision medicine horizon
Years ago, proteomic measurements were not standardized, and the field was controversial. We needed to build robust analytical tools and workflows that could reproducibly measure what is happening at the protein level in the cell; this would give us a more functional understanding of cancer biology compared to DNA and RNA alone. Furthermore, combining measurements of proteins, DNA, and RNA would produce a more unified and complete picture of tumor biology. After 15 years at NCI, OCCPR has brought rigor and reproducibility to the field of proteomics and pioneered the field of proteogenomics — now considered a new clinical and scientific discipline.
Proteogenomics will be integrated into NCI's vision for precision oncology in the next 10 years. We anticipate using proteogenomics in clinical trials and patient care, possibly to follow people longitudinally to understand the relationship between the molecular analysis of their tumor and the outcome of treatment. These studies will lead to improvements in therapies and discovery and development of novel treatments. This is how we want to move forward now at NCI — precision oncology intertwined with proteogenomics to transform cancer treatment.
~~~~~~~~~~~~~~~~~~~~~~~~~~~~~~~~~~~~
Until early April 2022, Dr. Rodriguez was on detail as the Assistant Director for Strategic Health and Cancer Science at the White House, Executive Office of the President, Office of Science and Technology Policy. He led policy and program strategies on S&T opportunities related to cancer and other diseases, including working on ARPA-H and the Cancer Moonshot. Welcome back to NCI and DCTD, Henry.
SPOTLIGHT: NCI's NATIONAL CLINICAL TRIALS NETWORK (NCTN) BIOBANKS:
A unique resource for well-annotated cancer clinical trial biospecimens to enable biomarker discovery and improve cancer treatment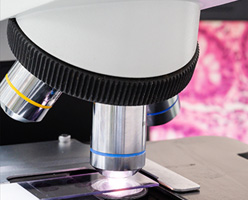 When people with cancer participate in clinical trials, their tumor biospecimens may be analyzed as part of the trial's research objectives. These biospecimen studies are a critical component of research to advance cancer therapy.
The NCTN's clinical trials include biospecimen collection for biomarker studies that are relevant to the agents under investigation and for addressing scientific hypotheses that determine a patient's trial eligibility or treatment. Legacy specimens are biospecimens that remain after trial-specific research is completed and the clinical trial requirements have been met.
An integral part of the NCTN, the NCTN Biobanks collect, process, and store well-annotated biospecimens from the NCTN's late phase 3, large phase 2, and some early phase trials. NCTN biospecimens have associated clinical and outcome data, which enhance the value of this unique resource. The current NCTN biobanking U24 grants (RFA-CA-20-002) support one pediatric and four adult biobanks.
The demand for well-annotated legacy biospecimens for secondary research studies is steadily increasing in scale and scope. Although the NCTN Biobanks make legacy tumor biospecimens available to the scientific community, access to biospecimens for non-NCTN-affiliated researchers has been difficult in the past. It is essential that scientists from the broader translational cancer research community can search for and access NCTN legacy biospecimens and accompanying data.
In April 2018, NCI launched the NCTN Navigator

, a comprehensive, user-friendly, searchable database designed to improve access to biospecimens and data collected from NCTN cancer treatment trials. Following a transparent application process based on scientific merit and approval by the NCTN Core Correlative Science Committee, researchers from the wider scientific community can receive NCTN biospecimens for critical studies needed to advance treatments for cancer. Researchers can also contact the NCTN Groups directly to inquire about available biospecimens if NCTN Navigator does not include a specific trial of interest. Learn more about the NCTN Biobanks and how to request biospecimens.
NEWS ACROSS DCTD
Upcoming Health Research Conference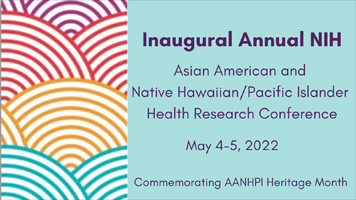 The Inaugural "Annual NIH Asian American, Native Hawaiian and Pacific Islander Health Research Conference" will be held on May 4-5, 2022.
The goals of the meeting are to celebrate AANHPI Heritage Month, highlight AA and NHPI research achievements, and assess research needs. The theme is "Mechanism and Translational Research to Improve Health and Therapeutic Outcomes for the AA and NHPI Population." The NIH Asian American, Native Hawaiian and Pacific Islander Health Scientific Interest Group (NIH AANHPI-HSIG ) is hosting and NCI is sponsoring the event.
Contact: Dan Xi, PhD — xida@mail.nih.gov
The NCI Formulary Expands by Adding Three New Agents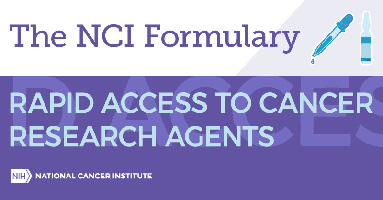 The NCI Formulary is a public-private partnership between NCI and pharmaceutical and biotechnology companies that offers investigators at NCI-audited clinical research centers in the United States who are main member sites of the NCI National Clinical Trials Network and the Experimental Therapeutics Clinical Trials Network rapid access to agents or combinations of agents for clinical research or to any U.S. investigators for preclinical research.
NCI recently finalized agreements with two new participating companies — SpringWorks Therapeutics (one agent), Inc and Turning Point Therapeutics (two agents) — to offer new agents through the NCI Formulary.
See the complete list of agents that are now available through the NCI Formulary to the research community.
DCTD-supported Research at AACR 2022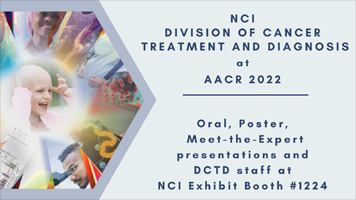 See the complete schedule of presentations that included DCTD staff speakers and co-authors at the AACR Annual Meeting in April.
Unleashing Comparative Oncology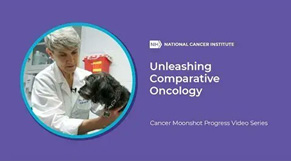 In this NCI video, Nicola Mason, BVetMed, PhD, University of Pennsylvania School of Veterinary Medicine, discusses comparative oncology and the NCI/DCTD-supported Canine Immunotherapy Clinical Trials Network and the NCI Integrated Canine Data Commons.
NCI's Strategic Vision for Clinical Trials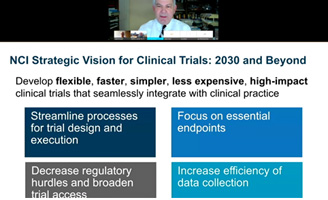 Jim Doroshow, MD, DCTD director, opened a session on NCI's Strategic Vision for Clinical Trials: 2030 and Beyond at the March Clinical Trials & Translational Research Advisory Committee (CTAC) meeting.
This session emphasized NCI's interest in supporting the use of telehealth approaches to expand its cancer clinical trials accrual and addressing the major shortage of experienced personnel available to support cancer clinical trials. Watch the CTAC videocast and presentations plus read the CTAC Strategic Planning Working Group Report.
The NCI Patient-Derived Models Repository Requests Feedback

The NCI Patient-Derived Models Repository (PDMR) is developing Tissue Microarrays (TMAs) using PDMR PDX tumors and requests input from investigators to ensure that the TMAs align with their needs.
Investigators can provide the following input by emailing NCI_PDM_Repository@mail.nih.gov, with the subject line "NCI PDMR TMA Feedback."
Which of these panel types interest you?
Specific histologies
Genetic mutations
MSI status
Others?
How would you use these TMAs?
Screening for models of interest
Biomarker discovery
Other?
Cancer Moonshot Biobank Symposium — Maximizing the Research Use of Small Biopsy Tissue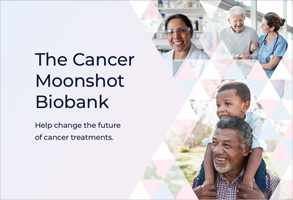 Longitudinally collected tumor biospecimens are a critical research resource to advance cancer therapy, but obtaining suitable cancer tumor biopsies can be challenging.
DCTD convened a symposium on February 9, 2022, to provide investigators with an opportunity to understand:
challenges and best practices for research biopsy collection
successful approaches for communication, team effort, and subsequent analysis that result in sufficient quality and quantity of analytes for molecular research and clinical testing
Read a summary of the symposium and view the recordings.
Updates from the Office of Cancer Clinical Proteomics Research
Selected Publications and NCI Cancer Currents Blog Posts
Publications
The first two publications with results from the NCI-COG Pediatric MATCH trial:
Parsons WD, Janeway KA, Patton DR, et al. Actionable tumor alterations and treatment protocol enrollment of pediatric and young adult patients with refractory cancers in the National Cancer Institute-Children's Oncology Group Pediatric MATCH trial. J Clin Oncol. 2022 Mar 30. Online ahead of print.
Eckstein OS, Allen CE, Williams PM, et al. Phase II study of selumetinib in children and young adults with tumors harboring activating Mitogen-activated Protein Kinase pathway genetic alterations: Arm E of the NCI-COG Pediatric MATCH Trial. J Clin Oncol. 2022 Apr 1. Online ahead of print.
Three recent NCI-MATCH publications with results from specific arms:
Mansfield AS, Wei Z, Mehra R, et al. Crizotinib in patients with tumors harboring ALK or ROS1 rearrangements in the NCI-MATCH trial. NPJ Precis Oncol. 2022 Mar 1;6(1):13.
Damodaran S, Zhao F, Deming DA, et al. Phase II study of Copanlisib in patients with tumors PIK3CA mutations: Results from the NCI-MATCH ECOG-ACRIN trial (EAY131) Subprotocol Z1F. J Clin Oncol. 2022 Feb 8. Online ahead of print.
Krop IE, Jegede OA, Grilley-Olson JE, et al. Phase II study of Taselisib in PIK3CA-mutated solid tumors other than breast and squamous lung cancer: Results from the NCI-MATCH ECOG-ACRIN trial (EAY131) Subprotocol I. JCO Precis Oncol. 2022 Feb;6:e2100424.
~~~~~~~~~~~~~~~~~~~~~~~~~~~~~
Korde LA, Somerfield MR, Hershman DL, et al. Use of immune checkpoint inhibitor Pembrolizumab in the treatment of high-risk, early-state triple-negative breast cancer: ASCO guideline rapid recommendation update. J Clin Oncol. 2022 Apr 13. Online ahead of print.
Chihara D, Huang EP, Finnigan SR, et al. Trends in grade 5 toxicity and response in phase I trials in hematologic malignancy: 20-year experience from the Cancer Therapy Evaluation Program at the National Cancer Institute. J Clin Oncol. 2022 Mar 9. Online ahead of print.
Buchsbaum JC, Espey MG, Obcemea C, et al. Tumor heterogeneity research and innovation in biologically based radiation therapy from the National Cancer Institute Radiation Research Program portfolio. J Clin Oncol. 2022 Mar 4. Online ahead of print.
Prindiville, SA, Sarosy GA, Loose D, et al. Patterns of Enrollment in Cancer Treatment Trials During the COVID-19 Pandemic at National Cancer Institute-Designated Cancer Centers. Cancer J. 2022 Mar-Apr 01;28(2):111-117.
O'Sullivan Coyne G, Karlovich C, et al. PARP inhibitor applicability: Detailed assays for homologous recombination repair pathway components. Onco Targets Ther. 2022 Feb 24;15:165-180.
Schoder H, Hope TA, Knopp M, et al. Considerations on integrating prostate-specific membrane antigen positron emission topography imaging into clinical prostate cancer trials by National Clinical Trials Network Cooperative Groups. J Clin Oncol. 2022 Jan 11. Online ahead of print.
Tandon P, Abrams ND, Carrick, DM, et al. Metabolic regulation of inflammation and its resolution: Current status, clinical needs, challenges, and opportunities. J Immunol. 2021 Dec 1;207(11):2625-2630.
NCI Cancer Currents
Opdulag becomes first FDA-approved immunotherapy to target LAG-3. April 6, 2022.
Can mRNA Vaccines Help Treat Cancer? January 20, 2022.
When Ovarian Cancer Returns, Surgery May Be a Good Choice for Selected Patients. January 12, 2022.
Funding Updates
Funding Opportunity Announcements

| Title | Announcement Number | First Available Due Date | Expiration Date | Activity Code |
| --- | --- | --- | --- | --- |
| Imaging, biomarkers and digital pathomics for the early detection of premetastatic cancer and precancerous lesions associated with lethal phenotypes (Clinical Trial Optional) | PAR-22-131 | September 5, 2022 | September 8, 2025 | R01 |
| Patient Derived Xenograft (PDX) development and Trial Centers (PDTCs) Network (Clinical Trial Not Allowed) | RFA-CA-22-012 | October 1, 2022 | November 2, 2022 | U54 |
| PDX Data Commons and Coordinating Center (PDCCC) for the PDX Development and Trial Centers Research Network (PDXNet) (Clinical Trial Not Allowed) | RFA-CA-22-013 | October 1, 2022 | November 2, 2022 | U24 |
| Systematic Testing of Radionuclides in Preclinical Experiments (STRIPE) (Clinical Trial Not Allowed) | PAR-22-139 | May 5, 2022 | May 8, 2025 | R01 |
| Systematic Testing of Radionuclides in Preclinical Experiments (STRIPE) (Clinical Trial Not Allowed) | PAR-22-140 | May 16, 2022 | May 8, 2025 | R21 |
| Microbial-based Cancer Imaging and Therapy — Bugs as Drugs | PAR-22-086 | May 16, 2022 | May 8, 2025 | R21 |
| Microbial-based Cancer Imaging and Therapy — Bugs as Drugs | PAR-22-085 | May 5, 2022 | May 8, 2025 | R01 |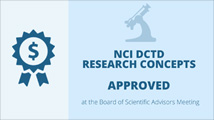 In March, the Board of Scientific Advisors approved three DCTD Research Concepts (Meeting recording and presentations).
Concept
Focus
Notice of Intent to Publish
Program announcement: "Precision Approaches in Radiation Synthetic Combinations (PAIRS)"
Interdisciplinary research will focus on targeted vulnerabilities created by cancer reprogramming from radiation-drug therapy
NOT-CA-22-078
NOT-CA-22-079
RFA/Cooperative Agreement: "Cancer Adoptive Cellular Therapy Network (Can-ACT)"
This will establish a network to produce and test novel cellular therapies to treat patients with solid tumors.
NOT-CA-22-074
NOT-CA-22-075
NOT-CA-22-076
Re-issue: "Cancer Immune Monitoring and Analysis Centers and Cancer Immunologic Data Commons (CIMAC-CIDC)"
This continues the infrastructure to examine the molecular markers of the effects of immune therapies in cancer clinical trials.