Last Updated: 09/12/2018
DCTD Convenes 2018 SPORE Workshop on Translational Research in Head & Neck/Thyroid Cancers
The Translational Research Program (TRP) convened its annual Head & Neck/Thyroid SPORE Workshop at the National Cancer Institute on August 16-17, 2018 (agenda). The 2018 meeting was organized by Leah Hubbard, PhD, Program Director, TRP, and SPORE Directors David Sidransky, MD, Johns Hopkins University (Head & Neck), Paul Harari, MD, University of Wisconsin (Head & Neck), and James Fagin, MD, Memorial Sloan Kettering Cancer Center (Thyroid). The attendees included translational research investigators (both scientists and clinicians) in head & neck/thyroid cancer and program staff from NCI and the National Institute of Dental and Craniofacial Research.
The purpose of this year's meeting was to define the obstacles to success in the field of head & neck/thyroid cancer research and to identify resources needed to overcome these barriers. An array of topics was covered including:
translational models and repositories
treatment resistance
premalignancy
novel tumor targets
immunotherapy and the tumor microenvironment
Meeting Highlights:
Special sessions and panel discussions were held on the following topics to develop and initiate collaboration opportunities among head & neck/thyroid investigators:
Precision medicine: the evolving clinical and regulatory path ahead
Immunotherapy in head & neck cancer: beyond checkpoint inhibitors
Translational models: collaboration and discovery opportunities
Collaboration opportunities in thyroid cancer: a study on active surveillance vs surgery for thyroid lesions
Read a summary of the 2017 SPORE Workshop on Translational Research in Head & Neck/Thyroid Cancer.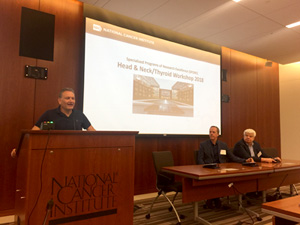 (L to R): David Sidransky, MD (Johns Hopkins University, Head & Neck SPORE), Paul Harari, MD (University of Wisconsin, Head & Neck SPORE), and James Fagin, MD (Memorial Sloan Kettering Cancer Center, Thyroid SPORE)