Last Updated: 08/25/2023
Cancer, Aging, and Comorbidities Webinar Series
The NCI, in collaboration with the National Institute on Aging, convened a seven-part webinar series from January — July 2023.
The recordings of the individual webinars are posted below.
Workshop Goals
This webinar series aimed to facilitate the understanding of the complex roles that aging and comorbidities play in mechanisms underlying cancer response, cancer treatment, and survivorship. The goal was to stimulate interest in the presented specific topics and encourage the consideration of aging and comorbidities in cancer research.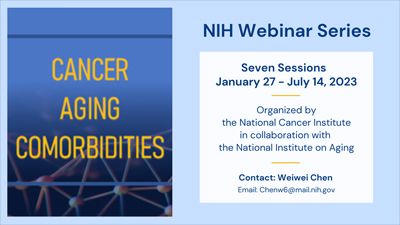 Workshop Design
In the hour-long webinars, the speakers explored the status, challenges, and opportunities in seven selected areas of high significance to cancer research in the context of aging and comorbidities.
Workshop Highlights
Session
Speaker(s)
Highlights
Session I
Supriya Mohile
Overview of cancer research in the context of comorbidities and current advances in improving treatment outcomes with an increasing emphasis on patient quality of life
Session II
Edith P. Mitchell
Andrea Denicoff,
Harvey Jay Cohen
Joseph Unger
Designing clinical trials for older adults with comorbidities, approaches that enhance the accrual of older adults to clinical trials, and the factors to consider in improving treatment outcomes for this population
Session III
Martine Extermann Marie Flannery
Aarti Asnani
The relationship between cancer treatment and existing comorbidities in older adults, as well as its impact on patient outcomes
Session IV
Wei Gao
Karen Mustian
Andrew Laccetti
The range of objective measures wearable devices can provide in clinical research with a discussion of implementation and obstacles in distinguishing treatment toxicities from underlying comorbidities
Session V
Ann Klopp
Matthew Redinbo
Peter Turnbaugh
The importance of gut microbiome in cancer treatment response and/or toxicities through their regulation of drug metabolism
Session VI
Lydia Lynch
Nicole Simone
How a patient's metabolism, immunity, microbiome, and comorbidities relate to the potential of using precision nutrition in cancer therapy
Session VII
James L. Kirkland
Judi Campisi
The mechanistic roles of senescence in cancer and other diseases, as well as the status, challenges, and opportunities in the translation of these understandings into clinical practice
Webinar Recordings
Session Information
Link to Recording
Session I; January 27
Keynote Speech
Recording
Session II; February 1
Comorbidities and Cancer Clinical Trial Design
Recording
Session III: March 30
Impact of Comorbidities on Treatment Tolerability and Patient Outcomes
Recording
Session IV: April 12
Wearable Devices to Measure Comorbidities and Improve Cancer Treatment
Recording
Session V: May 9
Microbiome as a Comorbidity in Cancer Therapy
Recording
Session VI: June 15
Food as a Drug
Recording
Session VII; July 14
Senescence, Cancer Treatment-Associated Accelerated Aging, and Comorbidities
Recording
Contact: Weiwei Chen chen.weiwei@nih.gov