Last Updated: 12/12/2022
Workshop on Shaping the Landscape of Brain Metastases Research
September 29-30, 2022
Recordings: Day 1 Sessions 1-2 and 3-4 ; Day 2 Sessions 5-7
Advances in cancer research and systemic therapy have increased survival for people with cancer but also the subsequent diagnosis of brain metastases.
Background — Brain Metastases and Treatment
People with cancer live longer, but the incidence of brain metastases diagnosis is also rising. Intracranial control of metastatic disease is now a priority. The standard treatment for brain metastases continues to evolve, with the following available options:
Limited brain metastases — stereotactic radiosurgery (SRS)
Numerous brain metastases — hippocampal-avoidant whole brain radiotherapy (WBRT) or SRS in select cases
Select patient subsets — CNS-active systemic therapy (deferral of radiation therapy)
Challenges in Brain Metastases Research
Local treatment failure (tumor regrowth after treatment) remains a significant issue for patients with more extensive metastases or longer-term survival.
Distant treatment failure (new brain metastases) is an issue, and optimal prevention strategies, selection, or sequencing of standard and emerging therapies are unknown.
Clear identification of high-risk patients who will develop brain metastases is lacking.
High-risk studies are challenging to conduct, and studies in animals and humans do not commonly align aims.
Workshop Overview — Recordings: Day 1 Sessions 1-2 and 3-4 ; Day 2 Sessions 5-7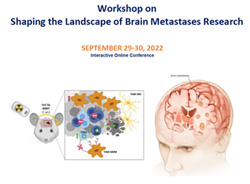 This workshop convened stakeholders across the spectrum of brain metastases research (patients and patient advocates, cooperative group leadership, brain tumor foundations, translational and clinical investigators, professional societies, and NIH leadership) to identify priorities that will shape the landscape of future brain metastases research. View the agenda.
Workshop Focus
Identify key challenges limiting advances in the field
Foster collaborative research and development of guidance to help shape future research priorities
Discuss optimal translational and clinical trial study designs incorporating biomarkers, novel radiotherapy or combinatorial strategies, and innovative endpoints to advance scientific understanding and improve outcomes
Elucidate novel translational concepts and lessons from ongoing work in primary brain tumor research
Workshop Topics
Biologic evidence for the development and treatment resistance of brain metastases
Clinical trial evidence for surgery, radiation, systemic (cytotoxic, immune-modulating, targeted), and other novel treatments of brain metastases and rational combinations of these modalities
The rationale behind ongoing trial designs investigating combined modality treatment and recommendations for novel endpoints
Identification of the brain microenvironment as a key area for future investigation to understand the development and progression of brain metastases
Multi-factorial mechanisms of treatment-related cognitive and functional impairment
Examples of Key Workshop Questions
What matters most to patients?
What are the critical challenges to overcoming the neurocognitive and functional sequelae of therapy?
How do we translate promising science to patient benefit?
What are the most promising strategies to predict response to standard therapies and to prevent local and distant intracranial treatment failure?
How do we take promising science into clinical trials to address the most critical unmet needs?
What novel strategies (or combinations of therapies) can address the most insurmountable challenges of brain metastasis research?
How should we optimize shared data collection to minimize disparities and accelerate discovery and well-designed clinical trials?
Workshop Highlights
Topic
Key Ideas
Increased access to clinical trials and managed care

Inclusivity and diversity
Critical importance of patients and caregivers in determining endpoints

Prevention of metastasis

Imaging or other means (biomarkers) of follow up in the absence of symptoms
Is there a role for WBRT for primary or secondary prevention?
Prediction-based molecular profile or circulating markers (blood/CSF)
Tropism biology

Quality of life

More testing and research
Wearable technology and apps (Some NIH projects underway)

Registry

Possible support from societies and companies to build high-end open access databases (private and public partnership)

Pre-clinical translation

Right metastasis models (in vitro, such as HTS, and in vivo) for discovery of new systemic agents that help to prevent metastasis and augment standard of care
Science of CSF will help

in biomarker monitoring
in Blood Brain Barrier/Blood Tumor Barrier for drug action
prevention of metastasis
Organizing Committees
| NCI | GBM-Brain Metastasis Interest Group |
| --- | --- |
| Mansoor M. Ahmed (Radiation Research Program) | Michelle Kim (University of Michigan) |
| Patricia Steeg (Center for Cancer Research) | Minesh Mehta (Miami Cancer Institute) |
| Brunilde Gril (Division of Cancer Biology) | |
| DeeDee Smart (Center for Cancer Research) | |
| Julie Hong (Radiation Research Program) | |
Co-Sponsors
| | |
| --- | --- |
| The American Association for Cancer Research (AACR) | American Brain Tumor Association (ABTA) |
| The American Society of Clinical Oncology (ASCO) | American Society for Radiation Oncology (ASTRO) |
| Center for Cancer Research, NCI | Division of Cancer Biology, NCI |
| Grasp Cancer | Living Beyond Breast Cancer (LBBC) |
| LUNGevity | National Brain Tumor Society (NBTS) |
| Radiation Research Program, NCI | The Radiosurgery Society (RSS) |
| Society for Immunotherapy of Cancer (SITC) | The Society for Neuro-Oncology (SNO) |
For questions, please contact Mansoor Ahmed (mansoor.ahmed@nih.gov) or Julie Hong (hongj@mail.nih.gov), Radiation Research Program, DCTD.