Last Updated: 11/17/2022
NCI-funded Canine Immunotherapy Clinical Trials
A New Comparative Oncology Research Network Builds on the Progress of Its Predecessor
Cancer clinical trials with pet dogs provide valuable information for the development of future treatments for people.
Background — An Unmet Need
Preclinical immunotherapy research requires reliable tumor models in animals that have fully competent immune responses and that mimic human physiology and disease. Human tumor-bearing immunodeficient mice that are common in laboratory studies are of limited use in immunotherapy studies. Although genetically engineered mice are immunocompetent, their tumors do not arise spontaneously.
Canines as a Translational Model
Canines may be a good model for understanding cancer in humans.
Cancers in pet dogs and humans arise spontaneously.
Dogs and humans have similar environments, genomes, immune responses, tumor complexity/heterogeneity, coevolution of the tumor microenvironment, course of disease, and treatment responses.
Dogs have a shorter lifespan and disease progression than people, allowing for faster clinical trials.
Researchers have the flexibility to test investigational agents in pet dogs, even in early or minimal disease states.
A New Approach in Comparative Oncology
In 2017, NCI provided funding in precision medicine oncology to six U.S. veterinary schools of medicine to support a network of veterinary oncologists and surgeons to enroll pet dogs as patients in immunotherapy clinical trials of cancer. The goal was to perform canine immunotherapy trials and correlative analyses to determine if dogs are useful models for informing human cancer research. This network was launched through the Cancer Moonshot and funded by the 21st Century Cures Act.
The Consortium — PRECINCT

— PRE-medical Cancer Immunotherapy Network Canine Trials — promotes the development of cancer immunotherapies for several common human cancers (glioma, osteosarcoma, melanoma, and lymphoma). Among the network's many accomplishments

, canine clinical trials at the University of Minnesota (glioblastoma) and the University of Colorado (osteosarcoma) led to two phase 1 clinical trials in humans.
A Second Network Will Expand on the Efforts of the First
NCI expanded its support of comparative oncology by funding a second canine immunotherapy clinical trials network in late 2022 (RFA-CA-21-051; RFA-CA-21-050). The PRECINCT 2017 and 2022 networks benefit from strong collaborations with one another and by sharing the same coordinating center at the University of Pennsylvania. The new network is covering additional areas not covered by the original including research on therapies for bladder cancer and some novel immunotherapies.
PRECINCT 2022 Goals
Support canine clinical studies using immunotherapeutic agents and novel therapeutic combinations together with laboratory correlative studies that seek to describe, characterize, and understand the cellular and molecular mechanisms that determine the anti-tumor response (or non-response) in dogs with spontaneous tumors
Include laboratories and canine clinical trial sites that will share therapeutic agents, specimens, and laboratory and clinical protocols to standardize and validate the data generated
PRECINCT 2022 Members
Grant Number
PIs
Lead Institution
Title
U24CA272267
Nicola Mason;
Qi Long
University of Pennsylvania
Advancing the Coordinating Center for the Canine Immunotherapy Network
U01CA272257
Shruthi Naik;
Jaime Modiano
Mayo Clinic Rochester
Translation of a novel combination therapy approach for non-Hodgkin lymphoma
U01CA272258
David Zaharoff;
Paul Hess
North Carolina State University
Intravesical immunotherapy of spontaneous canine invasive urothelial carcinoma
U01CA272280
Deborah Knapp
Purdue University
Advancing immunotherapy through cross species studies of immune cell responses and immune checkpoint inhibitor effects in dogs and humans with invasive urinary bladder cancer
U01CA272270
Nicola Mason
University of Pennsylvania
Advancing allogeneic CAR-iNKT for the treatment of solid tumors through comparative oncology
U01CA272268
Cheryl London;
Jillian Richmond
Tufts University
Generation of tumor specific immunity in canine osteosarcoma through dendritic cell hyperactivation
PRECINCT 2022 Immunotherapeutic Strategies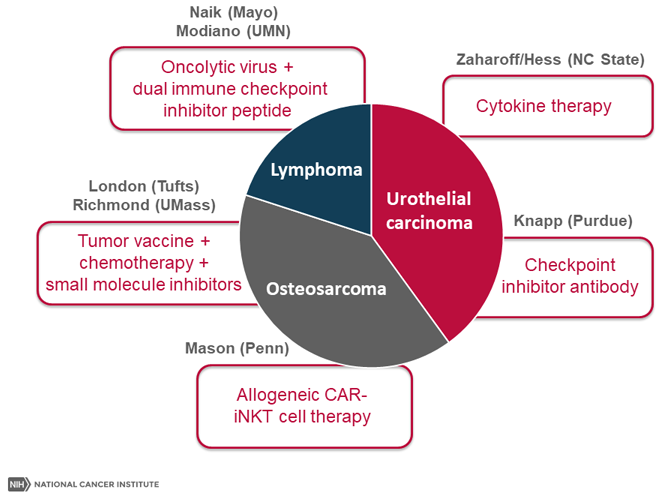 Data Access
Data from PRECINCT 2017 and PRECINCT 2022 canine clinical trials will be made publicly available in the Integrated Canine Data Commons (ICDC). The ICDC contains clinical trial information and correlative data derived from PRECINCT, the Center for Cancer Research's Comparative Oncology Trials Consortium (COTC), and sequencing data from studies supported by P30 grant supplements. The ICDC is a node in the larger NCI human Cancer Research Data Commons (CRDC) and was developed to incorporate genomic, proteomic, imaging, clinical trial, biomarker, population study, cancer model, and immuno-oncology data. The ICDC is a resource for canine researchers to submit and access data related to cancer and will empower the cancer research community to generate new hypotheses that can be tested by comparative analysis in dogs and humans.
Contact
For further information on the Canine Immunotherapy Network, contact Connie Sommers, PhD (sommersc@mail.nih.gov).