Last Updated: 10/25/2022
DCTD's Translational Research Program (TRP) Announces Fiscal Year 2022 SPORE Grantees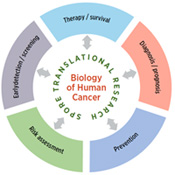 The TRP recently announced its successfully competed FY2022 Specialized Programs of Research Excellence (SPORE) grantees.
The SPORE program uses the P50 and U54 grant funding mechanisms to promote collaborative, interdisciplinary, translational cancer multi-project research. SPOREs are primarily focused on organ site disease, but also on themes that cut across organ sites.
There are now 60 funded SPOREs located at academic centers in 21 states. See information about all SPOREs by organ site and by state.
FY 2022 SPORE Grantees
Goals of the SPORE Program
Translating novel scientific discoveries from the laboratory and/or population studies to the clinic for testing in humans with cancer or at risk for cancer
Determining the biological basis for clinical observations
Using specimens from clinical studies to determine correlations between biomarkers and outcomes in patients
Promoting collaborations between SPOREs, Cancer Centers, other NCI/NIH funded mechanisms and programs, and outside organizations
Promoting pilot projects and career enhancement of researchers new to translational research
Supporting research in high incidence and rare cancers
Encouraging communication with advocates and advocate organizations to obtain advice from the patient perspective
Contact TRP staff for more information on the SPORE program.