Last Updated: 10/12/2022
NCI-funded Radiation Oncology-Biology Integration Network (ROBIN) Will Work Collaboratively to Optimize Radiation Therapy in Combination with Anti-cancer Agents
Radiation therapy (RT) can dynamically induce molecular targets in tumors that are not seen at diagnosis. The goal of ROBIN is to learn more about this complex biology to develop better therapies for people with cancer.
The Radiation Oncology-Biology Integration Network (ROBIN, RFA-CA-21-040) A collaborative interdisciplinary effort that will apply new biological knowledge to optimize RT in combination with systemic drugs, immunotherapy, and other agents
ROBIN Members
ROBIN Goals
Centers will provide highly focused research capabilities that will:
Test translational hypotheses that advance the understanding of mechanistic interactions and biologic consequences of RT through the course of radiation.
Collect longitudinally and spatially annotated research biospecimens prior to, during, and after RT to elucidate:

toxicity and resistance signals that are more likely to develop very early during treatment and could be preventable
new anti-cancer drug targets
if the current therapeutic strategy remains optimal for the patient
The long-term goal of ROBIN is to stimulate the development of radiation and combined modality trial concepts to be further developed in focused grants (R01s), program project grants (P01s), part of translational large scale grants (SPORE grants), or through the NCI's Experimental Therapeutics Clinical Trials Network or NCI's National Clinical Trials Network.
Two additional ROBIN Centers are anticipated to be awarded in late 2023 (RFA-CA-22-046).
ROBIN Center Structure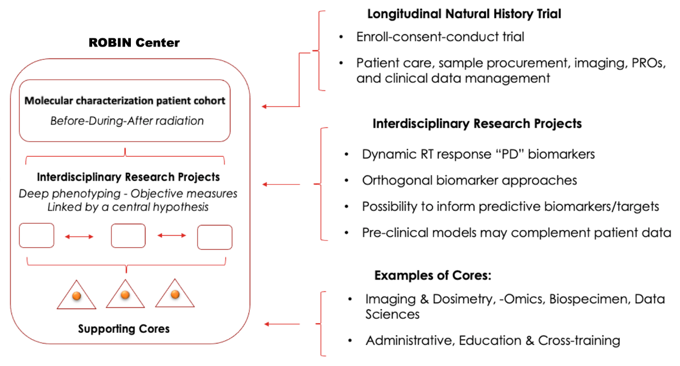 Radiation Oncology Background
History
Since its inception as a cancer treatment more than 100 years ago, radiation oncologists have relied on established methods to optimize RT for people with cancer. These methods involve biological and technology-focused approaches, built on mathematical descriptions of tumor cells and normal tissue biology (based on dose size and fractionation schedule).
The field of radiation oncology has embraced recently developed tools in genomics, molecular precision medicine, and big data, but this has not improved results.
Data from tumors are collected at diagnosis or relapse, but these time points may not be relevant to the biological capacity of the tumor to adapt, resist, and respond to treatment in the context of a patient's full course of therapy.
Unmet Needs
Although approximately 50% of people with cancer receive RT as a component of their treatment, most of the foundational radiobiology research was conducted either in cell lines or in preclinical model systems with limited data derived from intact human tumors. Limited data exist on the biology of cancer and normal tissue during treatment, with or without RT.
Research needs to characterize the biological basis of patient responses and outcomes to radiation, used alone and/or in combination with systemic treatments, to enhance its ability to eradicate cancer cells and to lessen toxicity to normal tissues.
The NCI Clinical Trials and Translational Research Advisory Committee (CTAC) report on Radiation Oncology noted that the nation needs a strong radiation research capacity. This workforce is necessary to conduct the types of translational and collaborative research required to advance the field.
For further information on ROBIN, contact Jeff Buchsbaum, MD, PhD, AM (Jeff.Buchsbaum@nih.gov), Michael Espey, PhD (SP@nih.gov), or Vik Vikram, MD (vikramb@mail.nih.gov).