Last Updated: 05/11/2022
NCI Workshop on Neutron Capture Therapy (NCT) for Cancer
Presented by DCTD's Radiation Research Program
April 20-22, 2022
Recordings: Day 1 ; Day 2 ; Day 3
Background
NCT involves nuclear capture and fission reactions that occur when an appropriate isotope, e.g., boron-10, is irradiated with low-energy (thermal) neutrons. This requires powerful (high flux) neutron sources and compounds capable of delivering neutron capture isotopes selectively to tumor cells or their microenvironment.
Research institutions with nuclear reactors can provide appropriate neutron sources for NCT; however, these sites are typically located away from medical centers where patients receive standard treatment. This limitation has negatively impacted the clinical use of NCT. Following recent technological advances, medical centers can now house relatively small (comparable to proton therapy units), accelerator-based neutron sources. This new development has strengthened interest in developing and testing new NCT delivery agents and testing them in clinical trials.
Workshop Goals (Agenda)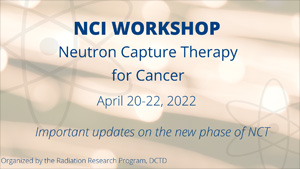 Assess the state of NCT
Confer on NCT compounds under development and in the pipeline
Stimulate new ideas for relevant neutron capture isotopes
Discuss and recommend the best models/methods for translational research (preclinical and clinical)
Workshop Highlights (Recordings: Day 1 ; Day 2 ; Day 3 )
Topic
Discussion Points
Clinical Trials (day 1)

Overview of recent developments worldwide
Setting up new accelerator-based facilities

preclinical validation studies
regulatory issues

Recent and ongoing clinical trials for:

recurrent head and neck cancer
recurrent glioblastoma
skin cancers

Design of future NCT clinical trials

Delivery Agents (day 2)

Novel boron delivery agents

small molecules
nanoparticles

Other neutron-capture nuclides

Translational Research (day 3)

Dosimetry
Evaluation of biological effects in preclinical studies
Optimal in vivo models
Organizing Committee
| | |
| --- | --- |
| Rolf F. Barth, MD, The Ohio State University | Jacek Capala, PhD, NCI |
| Julie Hong, MS, NCI | Narayan Hosmane, PhD, Northern Illinois University |
| Heikki Joensuu, MD, PhD, University of Helsinki Hospital | Sunil Krishnan, MD, Mayo Clinic |
| Akira Matsumura, MD, PhD, DrMed, University of Tsukuba | Wolfgang Sauerwein, MD, German Society for Boron Neutron Capture Therapy |
| Reinhard Schulte, MD, Loma Linda University | Amanda Schwint, PhD, National Atomic Energy Commission, National Research Council, Buenos Aires |
| Graca Vicente, PhD, Louisiana State University | Bhadrasain Vikram, MD, NCI |
| Jamey Weichert, University of Wisconsin School of Medicine and Public Health | |
For questions, please contact Jacek Capala or Julie Hong.