Last Updated: 03/29/2022
Maximizing the Research Use of Small Biopsy Tissue
Symposium Presented by NCI's Cancer Moonshot Biobank
Longitudinally collected tumor biospecimens are a critical research resource to advance cancer therapy.
Background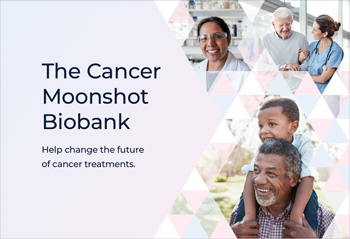 The Cancer Moonshot Biobank is an NCI initiative that will provide investigators access to donated biospecimens for research.
The Biobank:
engages with people with cancer and their medical providers to donate samples and data for research
collects samples and data over the course of cancer treatment, which is critical to advancing research on why some cancers respond better than others to treatment and how cancers change over time
enables research that will improve care for people with cancer
Appropriate tissue handling is essential to obtain biopsies that will yield analytes of sufficient quality and quantity to be useful for molecular research and clinical testing. However, obtaining suitable cancer tissue biopsies can be challenging due to:
variation in preanalytical factors that impact tissue and analyte quality
insufficient amount of biopsy tissue
insufficient tumor content
cellular heterogeneity
Symposium Goals
Provided investigators with an opportunity to understand:
challenges and best practices for research biopsy collection
successful approaches for communication, team effort, and subsequent analysis that result in sufficient quality and quantity of analytes for molecular research and clinical testing
Symposium Agenda
Organizers
Lokesh Agrawal PhD, Biorepositories and Biospecimen Research Branch (BBRB), Cancer Diagnosis Program, DCTD, NCI
Mickey Williams PhD, Director, Molecular Characterization Laboratory, Frederick National Laboratory for Cancer Research
| Speaker | Presentation Title |
| --- | --- |
| Helen M. Moore, PhD, Branch Chief, BBRB, NCI | Introduction to Cancer Moonshot Biobank |
| Alda L. Tam, MD, Department of Interventional Radiology, Division of Diagnostic Imaging, University of Texas M.D. Anderson Cancer Center | Best practices for obtaining biopsies of sufficient quality for molecular research and clinical testing |
| Stanley R. Hamilton, MD, Department of Pathology, City of Hope | Optimizing nucleic acid quality from small biopsies in a multi-center clinical trial: Experience from NCI-MATCH |
| Jonathan Keith Killian, MD, Foundation Medicine | Target enrichment from small biopsies for clinical molecular profiling |
| Daniel Merrick, MD, Department of Pathology, HTAN Clinical and Biospecimen Working Group, University of Colorado | Maximizing utilization of limited specimens: From tissue preservation to optimization of nucleic acid extraction using carrier RNA |
| Ralph Parchment, PhD, DCTD Program in Pharmacodynamic Biomarkers and Leidos Biomedical Research, Inc. | Analyzing small biopsies for labile analytes in pharmacodynamic studies |
Symposium Highlights
Topic
Discussion Points
Infrastructure and Teamwork

Clear and well-defined infrastructure should be employed, from biopsy collection through reporting assay results.

Teamwork and communication between interventional radiologists, oncologists, laboratorians, and clinical research associates drive success.

SOPs that are achievable and fit-for-purpose ensure success in obtaining biopsies of sufficient quality for downstream molecular research and clinical testing. This is especially important in a multi-site study. SOPs should detail collection, processing, and storage procedures.

Biopsy Risks

A thorough awareness of the risks and best practices for sampling is important for minimizing adverse events and ensuring success in biopsy collection.

Biopsy Approach

A defined biopsy site scoring system can help to guide successful biopsy collections.

Tumor enrichment by punching an embedded core can improve success and minimize the use of the valuable tissue.

Preanalytical/Analytical Factors

Preanalytical factors related to biopsy collection should be understood and monitored when using small biopsies for labile analytes in studies.

Fit-for-purpose preclinical studies are important for verifying the biomarker and establishing the clinical suitability of the assay and tissue sampling procedure, governed by the intended SOPs.

Carrier RNA can improve recovery of DNA and permit increased assay input and resultant sequencing read depth from small tissue biospecimens.
Contacts:
Lokesh Agrawal, PhD — lokesh.agrawal@nih.gov
Mickey Williams, PhD — mickey.williams@nih.gov