Last Updated: 09/29/2021
NCI-funded Glioblastoma Therapeutics Network (GTN) Will Work Collaboratively to Develop New Treatments
Despite enormous public and private investments into basic, translational, and clinical research for adult glioblastoma (GBM), treatment has not changed in 15 years. With the standard of care, the median survival is about 15 months and 5-year survival is less than 5%.
An Urgent Need
Improve the treatment of adult GBM by developing novel effective agents that can cross the blood-brain-barrier (BBB) and testing them in the clinic
Challenges to Progress
Since GBM infiltrates the brain locally and does not have a well-defined border, surgical removal of the tumor cannot obtain a tumor-free margin; therefore, adjuvant chemotherapy and radiation therapy (RT) after surgery are critical to treatment success.
Chemotherapy must cross the BBB to have a therapeutic effect.
RT dose is limited by damage to the nearby normal brain tissue.
Because GBM tumor cells are genetically heterogenous and exist in an immunosuppressive tumor microenvironment, the efficacy of other therapies (e.g., targeted agents and immunotherapy) is impeded.
Glioblastoma Therapeutics Network — A Collaborative Effort (RFA-CA-20-047)
Highly collaborative U19 (research program — cooperative agreements) teams will drive therapeutic agent(s) from pre-clinical development, through IND studies, into pilot clinical studies in humans. Members cooperate between teams so that reagents, assay protocols, animal models, patient samples, technologies, and development of clinical protocols are shared.
Each U19 team includes

investigators from two or more institutions, two of which are capable of independently accruing patients with GBM to GTN clinical trials
an Administrative Core
at least two Research Projects
at least one Shared Resources Core that serves at least one Research Project

An independent Network Coordination Center (NCC) provides network harmonization on scientific and clinical activities.
A Steering Committee establishes criteria to move an agent into clinical trials and determines the readiness of GBM therapeutic candidates from the GTN or from other NIH programs to enter clinical studies.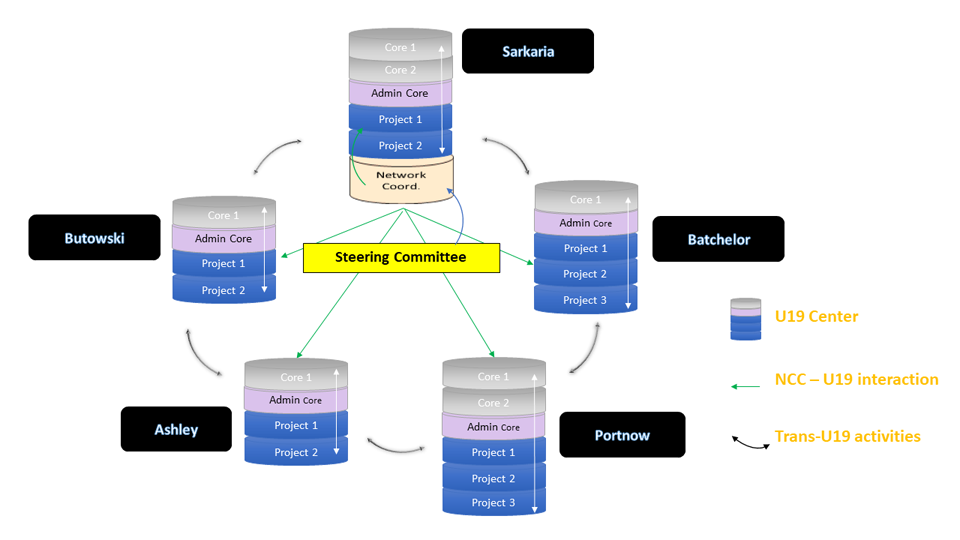 GTN Members
PI(s)
Grant Title
Butowski (UCSF)
Stupp (Northwestern)
Advancing treatment and understanding of immunotherapy in glioblastoma
Batchelor (BWH)
Harvard/Stanford GTN Program: Novel targeted therapeutics for glioblastoma
Portnow/Badie
(COH)
Development of small molecule inhibitors and biologic agents for treatment of glioblastoma using intracerebral microdialysis and signatures of vulnerability
Sarkaria/Galanis (Mayo)
Bindra/Omuro (Yale)
*Center of Innovation for Brain Tumor Therapeutics
Ashley (Duke)
Shay (UTSW)
6-thio-2-deoxyguanosine: A novel immunogenic telomerase-mediated therapy in glioblastoma — A Duke and UTSW collaboration
*U19 and Network Coordinating Center
Refer to the NCI BSA meeting videocast (May 12, 2020) and the associated GTN slide set for further details on the GTN. See additional information specific to biopharmaceutical development

.
For further information on the GTN, contact Suzanne Forry, PhD (forryscs@mail.nih.gov).