Last Updated: 07/16/2021
NCI Offers Expanded Capabilities for Cell Therapy Production and Seeks Project Proposals through the NCI Experimental Therapeutics (NExT) Program
DCTD is seeking project proposals from intramural and extramural investigators in need of clinical grade vector and/or cell therapy product manufacturing.
Building upon its initial efforts to support the production of CAR-T cells for clinical studies, the NCI Biopharmaceutical Development Program (BDP) at Frederick National Laboratory for Cancer Research (FNLCR) has expanded its capabilities to also offer viral vector production.
The BDP can now manufacture lentiviral and retroviral vectors for the genetic modification step in cell therapy production. We expect that the viral vector production projects will take 9-13 months from initiation to final testing and product release. The development process includes steps for investigators to verify transduction and gene expression levels of the BDP product.
The NExT Program is offering the BDP manufacturing support for cell therapy production as part of its mission to advance clinical practice and bring improved therapies to patients with cancer by supporting the most promising new drug discovery and development projects.
Investigators seeking production of clinical grade vector and/or cell therapy products can submit proposals to the NExT Program three times per year (February, June, and October).
For more information on BDP's support, contact Jason Yovandich (yovandij@mail.nih.gov).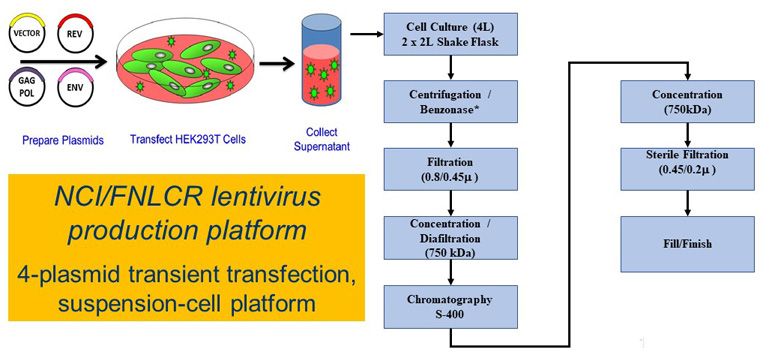 Schematic demonstrating the steps in lentivirus production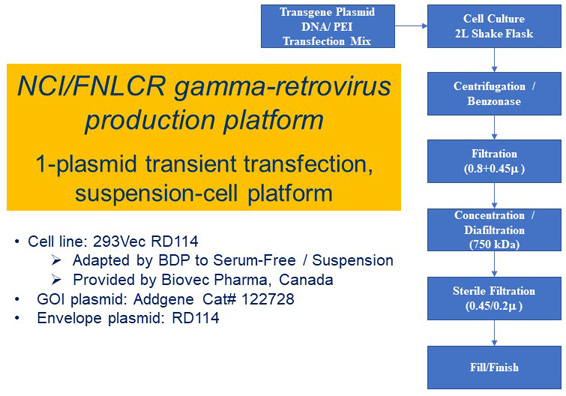 Schematic demonstrating the steps in retrovirus production