Last Updated: 06/29/2020
NCI's Patient-Derived Models Repository and The Cancer Imaging Archive Announce Identification and Imaging Characterization of Metastatic Patient-Derived Models
The NCI Patient-Derived Models Repository (PDMR) is a publicly accessible, national repository for early-passage, molecularly characterized patient-derived models developed from patients with solid tumors. Since 2017, the NCI PDMR has distributed viably cryopreserved patient-derived xenograft (PDX) material, patient/PDX-derived cancer cell cultures (PDCs), cancer-associated fibroblasts (CAFs), and patient-derived organoid cultures (PDOrgs) to the scientific community.
Mouse models of human cancer are an essential tool for cancer research, but pre-clinical animal models of spontaneous metastatic cancer are uncommon. In collaboration with the NCI's Cancer Imaging Program and the Frederick National Laboratory for Cancer Research's Small Animal Imaging Program, four spontaneous metastatic PDX models were identified and released to the public with the accompanying imaging characterization through The Cancer Imaging Archive (TCIA)

, a public repository of medical images of cancer. These four PDX models include the histologies colon adenocarcinoma

, pancreatic adenocarcinoma

, melanoma

, and bladder cancer

, with metastases observed in MRI images in an appropriate time frame to be useful in evaluating therapies to reduce metastatic spread. A total of 17 metastatic PDX models have been identified in the NCI PDMR with ongoing imaging studies for future inclusion in TCIA.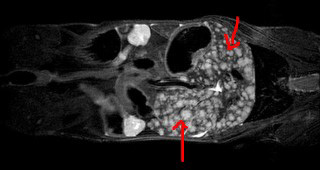 Since the launch of the PDMR, 748 public models (PDXs, PDCs, CAFs, and PDOrgs) have been developed from 545 unique patients, and new models continue to be added for cancer types already existing in the repository, including several rare cancers. The PDMR also includes genetic ancestry and MSI status for all public models, and germline sequence for a subset of the models. The models are clinically annotated with molecular information available in an easily accessible database to serve as a resource for public-private partnerships and for academic drug discovery efforts.