Last Updated: 04/07/2020
DCTD to Support Cell Therapy Production at NCI for Multicenter Clinical Trials
DCTD will soon support the production of cell-based immunotherapies at NCI, allowing NCI to make cell therapy products available to intramural and extramural clinical trial investigators.
Cell-based immunotherapies, such as chimeric antigen receptor (CAR) T cells, represent an exciting new strategy for cancer treatment. However, unlike "off-the-shelf" drug-based treatments, autologous cell-based immunotherapies require a complex, labor-intensive production process with multiple steps. The production process presents logistical and technical challenges, including:
Chain of custody and transport logistics: patient source material must be obtained through apheresis and transferred to a manufacturing facility, with the final product then produced, tested, and transferred back to the clinic
A lack of standardized manufacturing procedures, leading to variability among different research institutions
Need for appropriate manufacturing space compliant with good manufacturing practice (GMP) regulations, a limitation for many smaller institutions
With support from DCTD, the NCI Biopharmaceutical Development Program (BDP) at Frederick National Laboratory for Cancer Research (FNLCR) is currently positioning itself to facilitate future multicenter phase 1/2 cell therapy trials by: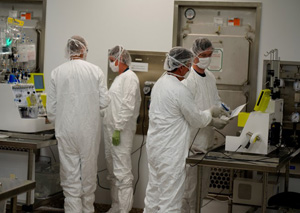 Providing centralized manufacturing of cell-based products in a current GMP (cGMP) facility
Ensuring consistent and standardized manufacturing processes, increasing reproducibility
Addressing product chain logistical issues
Current capacity at FNLCR is for production of CAR-T cells using a closed manufacturing system. Protocols for this process have been developed. An Investigational New Drug application has been approved by the U.S. Food and Drug Administration, and NCI is supporting a multicenter clinical trial of CD33 CAR-T cells in pediatric acute myeloid leukemia.
Facility renovations that are underway will allow for vector production (lentivirus and retrovirus) to begin in spring 2020 and for new cell therapy suites to come online in 2021.
In addition, NCI is planning to collaborate with the National Institute of Standards and Technology (NIST), FDA, and other stakeholders to standardize product testing where appropriate.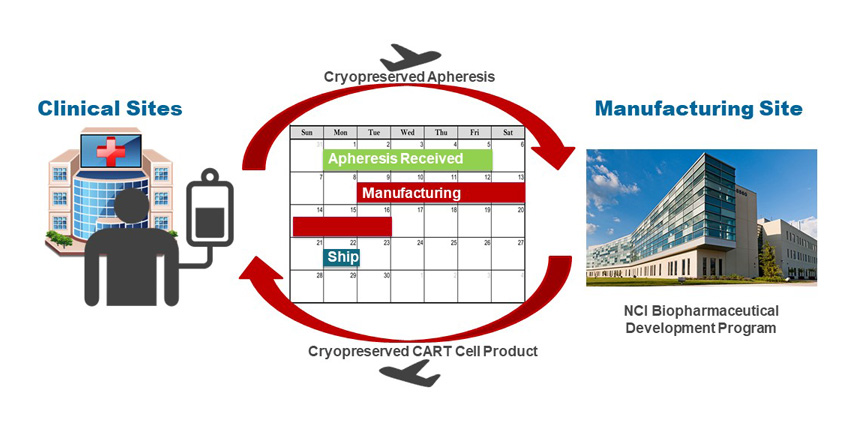 Overview of BDP/FNLCR CAR-T Cell Development: Clinical sites will cryopreserve and ship T-cell source material to the BDP facility and, after a 2-week manufacturing and testing process, will receive cryopreserved CAR-T cell product ready for infusion.