Last Updated: 11/06/2019
NCI Convenes Workshop on Reproducibility of Fecal Microbiota Transplants in Cancer Therapeutics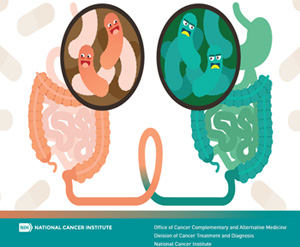 A 2016 NCI workshop on the "State of the Science: Cancer Complementary and Alternative Medicine Therapeutics Research" and the recent upsurge in the field of gut microbiota research suggest that the microbiome plays a role in cancer therapeutic outcomes. This may be especially important for patients receiving anti-PD-1 immunotherapy. To explore the potential role that fecal microbiota transplants (FMT) and pre/probiotics may play in cancer therapeutics and to address reproducibility and safety to inform translational human studies and clinical trials, NCI convened a "Strategic Workshop on Rigor and Reproducibility: Precision Fecal Microbiota Transplant and Microbiome Cancer Therapeutics" on September 5, 2019 (agenda). This timely meeting brought together scientists and FDA regulatory staff in the fields of FMT, pre/probiotics, nutrition, microbiome, synthetic biology, biomarkers, computation, immunology, gastroenterology, oncology, and infection.
Workshop Goals
Assess the current state of clinical research and clinical trials involving FMT and microbiome-based cancer therapeutics
Discuss the knowledge gaps and future opportunities in the field
Provide feedback to NCI and NIH regarding future priority areas to enhance precision- and mechanism-based rigor and reproducibility of defined microbiome-based therapeutic clinical research for cancer and other diseases
Workshop Focus Areas
Standardization (material manufacture and quality control), FMT donor selection, microbiome measurement, clinical protocols, procedures, and trial design
Microbiome composition and function as biomarkers associated with cancer therapy, such as reproducibility, safety, and efficacy
Confounding variables — host genetic and disease state, environment, antibiotics, diet and other lifestyle factors
Clinical efficacy and safety of FMT and microbiome-based cancer therapy
Clinically relevant models and human translational studies
Data sharing
FDA regulatory issues
Workshop Highlights
Human and mouse preliminary data demonstrated possible immunotherapy benefits from providing FMT from anti-PD1 responders to some non-responders.
In mice, a fiber-rich diet improved anti-PD-1 immunotherapy, and an association was observed in humans along with improvement in gut microbiome diversity.
A collaboration with the FMT national registry was suggested to include cancer patients for long-term safety and outcome follow up.
Coordinated, collaborative, multi-center cancer therapeutic FMT clinical trials were endorsed.
A network to develop a Human Cancer Immunotherapy Fecal Microbiome Atlas or Biobank was proposed.
For more information on this workshop, contact Dan Xi, PhD (xida@mail.nih.gov).