Last Updated: 12/31/2019
NCI-funded PDX Network Coordinates Pre-clinical Testing of Therapeutic Targets in Patient-derived Models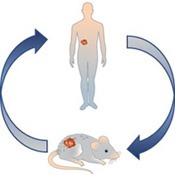 In 2017, NCI provided funding in precision medicine oncology to five U.S. research institutions to develop and utilize patient-derived models (RFA-CA-17-003 and RFA-CA-17-004) for cancer research. These grants, which are part of the Cancer Moonshot℠, fund a network of patient-derived xenograft (PDX) laboratory research units and a PDX coordinating center that comprise the PDX Development and Trial Centers Research Network (PDXNet)

. In 2018, two new Minority-PDX Development and Trial Centers were added to PDXNet (RFA-CA-17-032), with an additional focus on developing models from racial/ethnically diverse populations and conducting disparities research.
PDXNet Goals
Coordinate collaborative, large-scale development and pre-clinical testing of targeted therapeutic agents in patient-derived models to advance the vision of cancer precision medicine
Develop new PDX models and methods for preclinical testing of single agents and drug combinations
Conduct studies of response of PDX models to novel therapeutic strategies using the newly established models, as well as other existing well-characterized PDX models
PDXNet Strategies
PDXNet Structure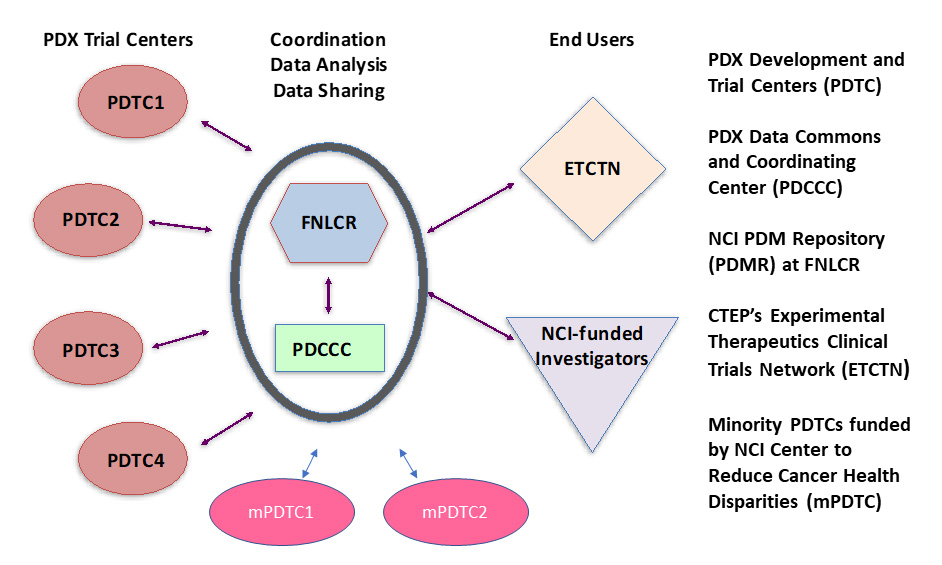 PDXNet Members
Activity Code
PI(s)
Grant Title
Lead Institution
U54
Ramaswamy Govindan (contact);
Shunqiang Li;
Li Ding
Washington University PDX Development and Trial Center
Washington University
U54
Meenhard Herlyn
Rational Approaches to Melanoma Therapy
The Wistar Institute
U54
Jack Roth (contact);
Funda Meric-Bernstam
University of Texas PDX Development and Trial Center
University of Texas MD Anderson Cancer Center
U54
Alana Welm (contact);
Bryan Welm;
Michael Lewis
PDX Trial Center for Breast Cancer Therapy
University of Utah
U54
Chong-Xian Pan (contact);
Luis Carvajal-Carmona;
Moon Chen
University of California Minority Patient-Derived Xenograft (PDX) Development and Trial Center (UCaMP) to Reduce Cancer Health Disparities
University of California-Davis
U54
Nicholas Mitsiades
Minority PDX Development and Trial Center: Baylor College of Medicine and MD Anderson Cancer Center Collaboration on Mechanistic Studies to Dissect and Combat Health Disparities in Cancer
Baylor College of Medicine
U24
Jeffrey Chuang (contact);
Brandi Davis-Dusenbery
Data Coordination Center for PDX Net
The Jackson Laboratory
For more information about PDXNet, contact Program Director Jeff Moscow, MD (jeffrey.moscow@nih.gov).