Last Updated: 06/24/2019
NIH Convenes Workshop on Imaging Inflammation and Its Resolution in Health and Disease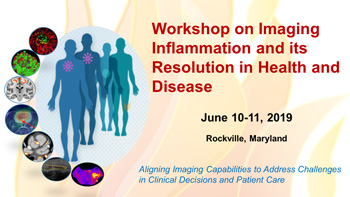 Chronic unresolved inflammation is implicated in the development of cancers and other diseases. Unlike acute inflammation, prolonged inflammation does not exhibit obvious signs and symptoms and is often neglected until the disease has developed. Monitoring the inflammatory state of vulnerable organ sites can provide an early opportunity for clinical interventions.
Current clinical evaluations of a patient's inflammatory conditions rely on immunological tests of biological fluids and pathological analyses of biopsied samples. Although biofluids can be collected repeatedly, the assays do not give information about the origin of inflammation, and biopsies are invasive procedures that give information only at the time and site of tissue removal. Therefore, non-invasive techniques utilizing medical imaging are needed to capture the dynamics of inflammatory and resolution processes. These tools could detect harmful pathological progression and assist in clinical evaluation.
To address this need, a trans-NIH Organizing Committee* jointly supported a "Trans-NIH Workshop on Imaging, Inflammation & Its Resolution in Health Disease" held on June 10-11, 2019 in Rockville, MD (agenda). This workshop brought together practicing clinicians, clinical researchers, and imaging tool developers to discuss the challenges, needs, and opportunities in advancing imaging-based evaluations of patients' inflammatory status for early intervention and treatment planning.
Workshop Goal: Align research efforts toward the development and application of in vivo imaging-based tools and techniques to monitor an individual's inflammatory and resolution state at the organ levels for better clinical decisions and treatment planning
Sessions
Questions
Topics
Clinical challenges and needs
What do clinicians need to monitor inflammatory status in patients for their decisions?

Cancer Immunotherapy/pseudoprogression

Diet/Inflammation/Health outcomes

Post-thrombotic syndrome

Liver disease/liver cancer

Chronic and neuropathic pain

State-of-the-art imaging tools
What are the in vivo imaging technologies that we currently have for detecting inflammation? What are they measuring?

Imaging modalities: Optical, photoacoustic imaging, magnetic resonance imaging (MRI), positron emission tomography (PET), single-photon emission computerized tomography (SPECT)

Inflammatory signatures: Molecular, cellular, metabolic, functional, anatomical

Animal models of diseases: from mice to companion animals

Cross validations
What are the benefits in intersecting imaging and bodily fluid-based inflammatory biomarkers in human studies?

Imaging modalities: PET, MR, CT, combination

Biomarkers: new and established liquid/biopsy/imaging inflammatory biomarkers

Human Diseases: Cancer, neurological, cardiovascular, arthritis, non-alcoholic steatohepatitis

Human applications
How can imaging inflammation capabilities help our understanding in predicting disease onset and progression in human?

Imaging modalities: PET, MR, CT, and combination

Human diseases: Cancer, neurological, cardiovascular, inflammatory pain
Workshop Highlights
A diverse group of physicians, clinical scientists, and surgeons from different disease areas gathered for the clinical sessions to discuss scenarios that could be affected by individual patients' inflammatory status.

Consensus on Needs: Image-based capabilities that would help detect inflammatory and deteriorating conditions, guide treatment plans, and undertake necessary interventions

Researchers with expertise in different imaging modalities showcased the current state-of-the-art techniques that can detect the signature within the inflammatory cascades in different organs and diseases.

Consensus on State-of-the-Art: Possible adaption of these pre-clinical imaging tools for diseases of other organs and translation to the clinic

Attendees discussed and presented information on human applications.

Consensus on Strategy: Cross-validation between new imaging features and blood-based biomarkers of inflammation or established imaging indices in accelerating clinical translation of imaging inflammation capabilities
For more information on this conference, contact Christina Liu, PhD, PE- christina.liu@nih.gov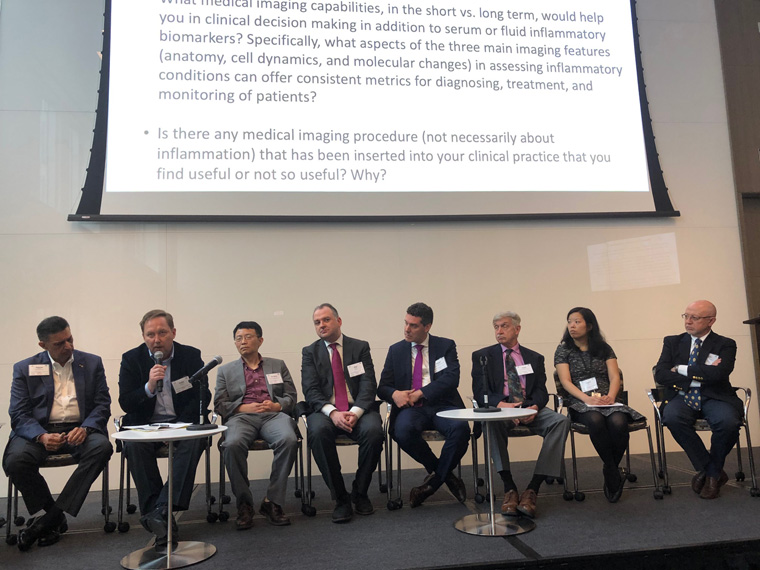 *Organizing Committee: National Cancer Institute (NCI), National Eye Institute (NEI), National Heart, Lung and Blood Institute (NHLBI), National Institute of Allergy and Infectious Diseases (NIAID), National Institute of Dental and Craniofacial Research (NIDCR), National Institute of Diabetes and Digestive and Kidney Diseases (NIDDK), National Institute of Nursing Research (NINR), National Institute on Drug Abuse (NIDA), NIH Office of Dietary Supplements (ODS)