Last Updated: 05/08/2019
A New NCI-NRG Precision Medicine Clinical Trial Treats Patients with ALK-positive Non-Small Cell Lung Cancer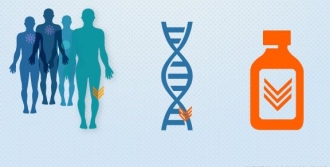 NCI and NRG Oncology

, a member of NCI's National Clinical Trials Network (NCTN), are leading a precision medicine clinical trial in patients with late-stage, ALK-positive non-small cell lung cancer (NSCLC), whose tumors are resistant to previous ALK inhibitor therapy (NCI-NRG ALK Protocol).
ALK-positive lung cancer occurs in approximately 1 out of 25 NSCLC patients and results from a rearrangement of the ALK gene, which is implicated in tumor formation. If a patient's ALK-positive tumor progresses after receiving treatment with an ALK inhibitor, specific genetic alterations in ALK may be involved in the treatment resistance in some patients. This trial aims to further understand ALK-positive NSCLC in patients with and without these ALK-resistant mutations.
Trial Specifics
Phase 2 clinical trial
Protocol with nine treatment arms
Patients are treated based on the genetic alterations of their tumors, which are identified by tumor biopsy performed at the time of progression
Trial Goals
Compare the response rates in these groups of patients:
ALK-positive patients with resistant mutations receive

ALK inhibitor based on the specific resistant tumor mutations expressed

ALK-positive patients with no resistant mutations receive either

ALK inhibitor that they have not been treated with prior to progression
Chemotherapy

Evaluate the effectiveness of liquid biopsies to detect ALK alterations in circulating tumor DNA and corroborate those results with the tumor biopsy; possibly replace tissue biopsy with liquid biopsy after approximately 200 patients are enrolled
The NCI-NRG ALK Protocol is a collaboration among the NRG investigators, pharmaceutical companies, Foundation Medicine, and NCTN groups.