Last Updated: 04/15/2019
NCI Announces New Tissue Procurement Study to Inform Cancer Drug Resistance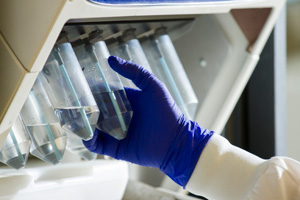 The NCORP Tissue Procurement Protocol (NCI 10231, NCT 03707574) will assess if researchers can obtain and analyze tissue and blood samples at baseline and upon disease progression from patients with advanced cancer being treated with approved molecularly targeted therapies at community sites. The goals are to analyze the specific genes that may affect the growth and spread of the tumor and determine if the patient's treatment influences the genomic make-up of the tumor cells and resistance to therapy. While not a treatment clinical trial, a centralized laboratory will perform the molecular profiling assays and will provide physicians and patients with this information.
By participating in this study, patients will help the oncology community answer some of the most burning questions in the field, such as "Why do tumors stop responding to treatment?" and "What can we do about it?"
This study, a project within the Cancer Moonshot℠, will help to inform the Cancer Moonshot Biobank℠. This effort, which is being developed by DCTD and the Division of Cancer Prevention, will  collect tumor biopsy and blood biospecimens and associated data to help answer pressing questions in cancer research.
Study Goals
Obtain paired tumor tissues and blood prior to treatment and upon disease progression in patients treated for advanced cancer with molecularly targeted therapies
Bank tissue, blood, and nucleic acids from patients that may be used to study mechanisms of sensitivity and resistance to cancer therapies
Perform molecular profiling assays on matched malignant tumor and blood to provide physicians and patients with a clinical report from tumor obtained at baseline and upon progression.