Last Updated: 10/22/2018
DCTD's Cancer Therapy Evaluation Program Convenes 2018 Early Drug Development Meeting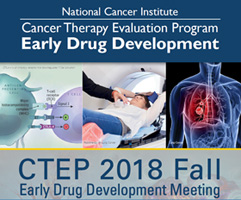 On October 1-2, 2018, the Cancer Therapy Evaluation Program (CTEP) sponsored its annual Early Drug Development (EDD) meeting. The EDD meeting is an educational event focused on enhancing communications between the NCI and the network of CTEP-supported Experimental Therapeutics Clinical Trials Network (ETCTN)-funded early clinical trial investigators.
Academic, government, and pharmaceutical company clinical investigators and related health care personnel involved in oncology early drug development attended this meeting, which consisted of a diverse spectrum of educational sessions, clinical trial update presentations, keynote lectures, and closed meetings with ETCTN investigators (agenda).
Meeting Highlights
Clinical Trial Updates on CTEP-Sponsored Studies
A session on early phase immunotherapy studies included a keynote lecture by Catherine Bollard, MD, MBChB, Children's National Health System, on recent advances in T-cell therapies for lymphoma, and updates for six CTEP-sponsored early phase immunotherapy trials.
A session on CTEP-sponsored trials employing radiation therapy included a keynote lecture by Ralph Weichselbaum, MD, University of Chicago, on new strategies to treat "oligo" metastases with radiotherapy, and three CTEP-studies that incorporated radiation therapy with radiosensitizers, DNA-damage repair inhibitors, or immunotherapy agents.
Sessions on other CTEP-sponsored trials included two positive reports of rare disease studies: a phase 3 Alliance study of sorafenib vs placebo in patients with desmoid tumor and a NCI Pediatric Oncology Branch study of selumetinib in Neurofibromatosis type 1 patients with inoperable plexiform neurofibromas.
Education Session on Advances in the Biology and Treatment of Lung Cancers
Prominent speakers addressed treatment at all stages of lung cancer, especially non-small lung cancer, and opportunities for incorporating investigational agents into conventional therapeutic strategies: Greg Riely, MD, PhD, Memorial Sloan Kettering Cancer Center, Patrick Forde, MBBCh, Johns Hopkins University Cancer Center, and Hossein Borghaei, DO, MS, Fox Chase Cancer Center. Kurt Schalper, MD, PhD, Yale University, gave an insightful lecture on biomarker and other translational studies, and Taofeek Owonikoko, MD, PhD, MSCR, Emory University, discussed advances in small cell lung cancer.
The Twelfth Annual Michaele C. Christian Oncology Drug Development Award and Lectureship
This award, honoring a mid-career oncology investigator was given to Wells A. Messersmith, MD, University of Colorado. Dr. Messersmith's work has addressed treatment of gastrointestinal cancers with innovative new agents and combination strategies informed by molecular tumor characterization.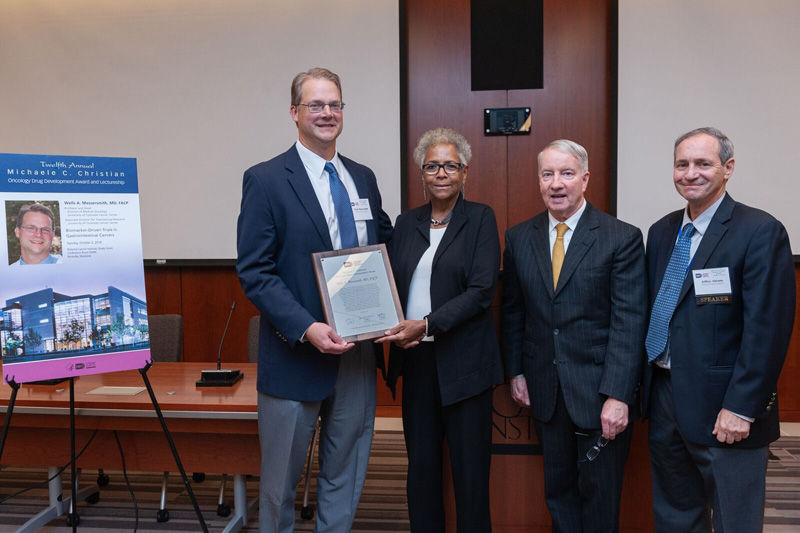 Read summaries of the 2016 and 2017 EDD meetings.
Contact John Wright, MD, PhD with questions about the EDD meeting and suggestions for the 2019 meeting agenda.