Last Updated: 01/22/2019
At the Crossroads of Social Media and Clinical Trials: A Workshop on the Future of Clinician, Patient and Community Engagement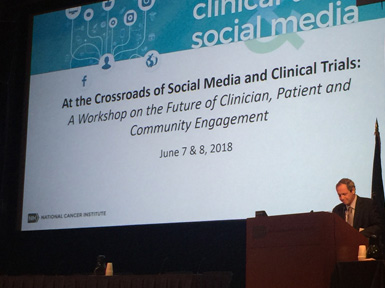 Clinical trials are indispensable for driving cancer treatment discoveries; however, clinical trial accrual and retention remain significant challenges, particularly in minority and underserved communities. Social media is having a paradigm-shifting effect on clinical trials by facilitating cross-cutting, multi-directional communication among patient, advocate, researcher, and clinician communities. NCI has played an active role in developing social media strategies for clinical trials. To further explore strategies by which social media may engage diverse stakeholders in cancer clinical trial communities, NCI convened a workshop on June 7-8, 2018 (agenda) entitled, "At the Crossroads of Social Media and Clinical Trials: A Workshop on the Future of Clinician, Patient and Community Engagement." Both days of the workshop are available to view via NIH Videocast (Day 1 and Day 2).
During the highly interactive meeting, attendees discussed approaches to engage and educate the public and health care providers about cancer clinical trials using evidence-based social media strategies. The Attendees and 38 workshop speakers included patient advocates, clinicians, representatives from NCI's National Clinical Trials Network (NCTN), ethicists, and digital communications experts. Speakers provided their perspective on the relationship between clinical trials and social media, as well as guiding principles for the attendees to consider during the breakout sessions.
Presentation Sessions
Clinical Trials Go Social — Connecting Trials to the Community

Existing social media efforts in clinical trials, potential impact of information flow, and challenges for patient and physician engagement

Engaging Patient Communities Online

Successful social media efforts to engage patients in clinical trials and medical discovery, including diverse and underserved populations

Clinician Focus — Community Building and Outreach

Engagement of patients, other physicians, and the community by clinicians and clinical researchers through social media

Innovation through Collaboration and Partnership

Successful partnerships to help engage the patient and clinician communities around clinical trials

Social Media Tools and Metrics

Strategies to measure and improve targeted outreach

Future Considerations

Strategies for moving forward, barriers and facilitators to social media use for patient and community education about clinical trials; Promoting equitable access to innovative therapies
Breakout Topics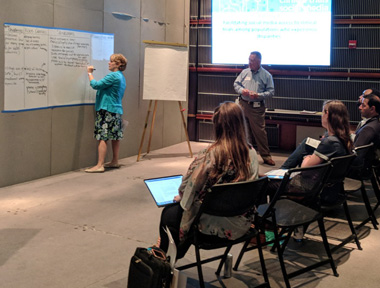 Facilitating social media access to clinical trials among populations who experience disparities
Harnessing social media tools to increase awareness about tissue/biospecimen donation during clinical trial participation
Social media strategies to educate and improve the Adolescent and Young Adult (AYA) participation in research
Leveraging social media to improve patient understanding about clinical trials and to harness patient involvement in research design and development
Mitigating the spread of misinformation and unblinding in clinical trials via social media
Executive and full summaries of the two-day proceedings are available for download:
Follow the conversation on Twitter using the hashtag: #ClinicalTrialsSM

NCI and the Cancer Moonshot Network for Direct Patient Engagement sponsored the workshop, and staff from NCI's Division of Cancer Treatment and Diagnosis, Division of Cancer Control and Population Sciences, and Office of Communications and Public Liaison planned the event.