Last Updated: 05/22/2018
NIH Convenes Conference on Cancer, Autoimmunity and Immunology
NCI staff, including Elad Sharon, MD, MPH, Cancer Therapy Evaluation Program (CTEP), Connie Sommers, PhD, Developmental Therapeutics Program, and Howard Young, PhD, Center for Cancer Research, as well as Marie Mancini, PhD, National Institute of Arthritis and Musculoskeletal and Skin Diseases (NIAMS) and Katarzyna Bourcier, PhD, National Institute of Allergy and Infectious Diseases (NIAID), jointly organized a workshop entitled, "Cancer, Autoimmunity and Immunology." The meeting was held March 22-23, 2018 (agenda) and can be viewed by NIH Videocast (Day 1 and Day 2).
The goals of the workshop were to:
Understand the biology of immune-related adverse events (irAEs), which have occurred in cancer patients being treated with immunotherapies, and how that might inform the study of autoimmune disease.
Define the potential for the study of autoimmune disease to lead to greater understanding of the treatment and management of irAEs during and following cancer therapies.
In addition to the Keynote Speakers, Suzanne Topalian, MD, Johns Hopkins University and Jeff Bluestone, PhD, Parker Institute for Cancer Immunotherapy, more than 30 additional speakers presented the latest research across the following eight sessions:
Autoimmune Endocrinopathies
Rheumatological Syndromes
Diversity of irAEs Observed in the Clinic and Lessons from Lupus
Cardiovascular Autoimmunity
What's the Big Picture? Initiatives for Approaching irAEs
When the Medicine Provides the Ammunition
Analysis of Existing Samples from Immunotherapy-Treated Patients
Infectious Disease, Immunodeficiency, and Immunoregulation
Workshop highlights included the following: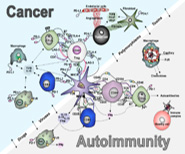 The development of "irAE Toxicity Teams" with expertise in endocrinology, cardiology, dermatology, rheumatology, and other areas to help manage patients who experience these unique AEs
How to characterize the nature of irAEs, e.g. myocarditis, and how to differentiate them from AEs caused by other cancer therapies, and how to assess and manage irAEs
DCTD initiatives, such as the NCI-Alliance irAE Biorepository and two CTEP-sponsored protocols for patients that are typically excluded from clinical trials with immune checkpoint inhibitors, working with autoimmune disease specialists and renal transplant nephrologists
Three NIH institute directors participated in the conference, including Norman Sharpless, MD, NCI, Anthony Fauci, MD, NIAID, and Stephen Katz, MD, PhD, NIAMS, reflecting the broad interest in the topic and value of scientific interaction across the spectrum of human disease.   
Review moments from the meeting on Twitter: #NIHCAIConf

The next NIH Conference on Cancer, Autoimmunity and Immunology is tentatively scheduled for early 2019.