Last Updated: 08/10/2021
NCI-supported Precision Medicine Oncology Research Activities
NCI promotes research to discover unique therapies that treat an individual's cancer based on the specific genetic abnormalities of that person's tumor. DCTD is contributing to these efforts by supporting precision medicine cancer clinical trials and five collaborative cancer research networks.
Clinical Trials in Precision Medicine
In 2014, NCI launched a series of clinical studies whose overall aim is to use more precise diagnostics to select patients for therapies that target molecular abnormalities. These initiatives take advantage of next generation sequencing (NGS) technologies to look for changes in tumor DNA, with some including additional technologies to search for changes in tumor protein levels.
By making these studies accessible via NCI's National Clinical Trials Network (NCTN) and NCI Community Oncology Research Program (NCORP), patients treated at centers large and small, in cities and in rural communities, have access to these new approaches for cancer diagnosis and therapy.
NCI-MATCH
Overview
In NCI-MATCH (MATCH), people with cancer are assigned to receive treatment based on the genetic changes found in their tumors through genomic sequencing and other tests.
The trial seeks to determine whether treating cancer based on targeting these specific genetic changes is effective, regardless of the cancer type.
An umbrella protocol covers distinct, single-arm phase 2 trials that each study a targeted therapy.
MATCH has a total of 39 arms, each with a drug(s) that targets a molecular abnormality or group of molecular abnormalities. List of open arms.
NCI and the ECOG-ACRIN Cancer Research Group are leading the study, which is available through the NCI National Clinical Trials Network (NCTN).
Timeline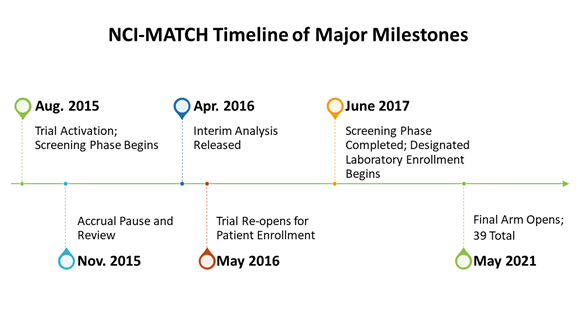 Highlights
Collaboration
The collaborative nature of MATCH is essential to its successful operation.
NCI and ECOG-ACRIN lead the trial, but the following contribute to its planning and management:
all NCTN groups
the NCI Community Oncology Research Program (NCORP) members
experts from across several operational committees
the principal investigators of the subprotocols
the pharmaceutical industry
By leveraging a team of oncologists, industry, and government organizations, MATCH has demonstrated the feasibility of large-scale sequencing efforts and enhanced access to clinical trial participation.
Researchers in the NCTN and NCORP treat tens of thousands of patients with all types of malignancies; therefore, enrollment rates to MATCH are excellent, with roughly two-thirds of people registering through community oncology practices across the US. This demonstrates an unmet need for access to new therapies at sites outside of major metropolitan areas.
MATCH Clinical Laboratory Network
The MATCH study established a clinical laboratory network (University of Texas MD Anderson Cancer Center, Frederick National Laboratory for Cancer Research, Massachusetts General Hospital, and Yale School of Medicine) to validate the MATCH next generation sequencing (NGS) assay and screen potential trial participants. This new model was a crucial achievement that led to:
nationwide accrual of patients to a large-scale clinical precision medicine study
successful biopsies at local facilities
high reproducibility of a complex NGS assay across multiple clinical laboratories
Interim Analysis
The protocol design incorporated a pause for review after enrollment of 500 people for screening. The trial reached that enrollment mark in late October 2015, which was five times the number expected to enroll in the trial's first 3 months. During the trial pause, the MATCH study team conducted an interim analysis, which was essential to the continued operation of the trial.
Interim Analysis Results

The frequency of most of the targeted molecular alterations in the screened biopsies was lower than predicted based on estimates from The Cancer Genome Atlas.
Sixty-five percent of the people who registered for screening had uncommon cancers (other than breast, colorectal, non-small cell lung, or prostate).
Assignment and enrollment to the treatment arms lagged due to certain tumor eligibility exclusions and because limited treatment arms were open at that time (i.e., only 10 arms out of the eventual 39 were open).

Trial Changes following Interim Analysis

revised estimates of mutation frequencies
increased screening sample size
14 additional treatment arms opened
improved assay throughput and efficiency
External Designated Laboratory Network
The MATCH clinical laboratory network screened 6,000 people by June 2017, which was two years earlier than planned. However, several arms for people with an actionable mutation of frequency less than 1% had not completed enrollment.
To address this, the trial was amended to enroll participants using an innovative model — an external network

of nearly 30 CLIA-accredited laboratories across the country that would refer people following tumor biopsy sequencing done as part of clinical care. This approach expanded referrals to MATCH due to the large volume of people receiving tumor sequencing through these laboratories.
Results
Discussions on special topics related to MATCH and results from individual arms are posted on the ECOG-ACRIN Website

.
Next steps
Studies involving participants' biospecimens are underway to analyze:
whole exome and RNA sequencing on tissue to evaluate potential mechanisms of response and resistance to treatment
diagnostic/archived biopsies compared to the MATCH screening tumor biopsies to assess mutation patterns that could influence treatment choices
blood samples to assess circulating tumor DNA prior to treatment, which will inform the benefit of liquid biopsies to diagnose cancer compared with the tumor
NCI is also planning three additional precision medicine clinical trials.
NCI-COG Pediatric MATCH
NCI-COG Pediatric MATCH (Molecular Analysis for Therapy Choice) is a phase 2 clinical trial that will enroll children and adolescents with advanced solid tumors-including non-Hodgkin lymphomas, brain tumors, and histiocytoses-that have not responded to treatment or have progressed on standard therapy. The study was developed and will be led jointly by NCI and the Children's Oncology Group (COG)

, part of the NCI-sponsored National Clinical Trials Network (NCTN). The trial is taking place at around 200 participating children's hospitals, university medical centers, and cancer centers across the U.S. that are part of COG.
As in the adult NCI-MATCH trial, molecular tests to be performed on the tumor tissue include genetic sequencing using a panel of 160 genes (on the Ion S5 System from Ion Torrent), as well as other diagnostic assays for specific molecular features. The tumor tissue will be sent to a central laboratory at Nationwide Children's Hospital in Columbus, Ohio. Two CLIA-certified laboratories will perform the tests initially- the Molecular Characterization Laboratory at Frederick National Laboratory for Cancer Research and MD Anderson Cancer Center with Dartmouth joining at a later time. DNA sequencing results will be used to identify children and adolescents whose tumors have a genetic abnormality for which there is a treatment arm testing either an approved or investigational targeted agent. Tissues from previous biopsies can be used if obtained after patients have had treatment. Pediatric patients with brain stem gliomas may be entered if they had a biopsy at the time of diagnosis. Researchers plan to screen the tumors of 200 to 300 children and adolescents each year until 1,000 have been screened. Current research suggests that 1 out of 10 (10%) patients screened for this study will match one of the targeted drugs being tested. The genomic data captured in the trial will serve as an invaluable resource for studying the genetic basis of pediatric cancers.
In contrast to NCI-MATCH, a unique aspect of Pediatric MATCH is that germline testing will be performed on DNA from the patient's peripheral blood, collected at the time of study enrollment. The germline testing results will be used to determine if the genetic variants identified in the tumor were inherited or not. The information gleaned from this portion of the trial can help oncologists counsel families about genetic testing, genetic counseling, and follow-up care for the patient and other family members.
The trial opened to accrual in July 2017 with approximately six treatment arms, expanding to eight or more. At least 20 patients will be enrolled on each treatment arm. Patients who enroll on a treatment arm will continue to receive the experimental treatment as long as their tumors are stable or getting smaller and as long as they do not develop significant toxicity from the treatment. More information is available on the clinical trials information page on NCI's website and in NCI's July 2017 press release.
NCI-MPACT
NCI's MPACT ("Molecular Profiling-Based Assignment of Cancer Therapy") seeks to determine if patients with a mutation in a certain genetic pathway are more likely to benefit from a treatment that targets that pathway, as opposed to another cancer treatment not targeting that pathway.
A multi-center trial led by the NCI, MPACT will analyze tumor biopsies of hundreds of advanced cancer patients to determine if they have mutations in specific genetic pathways that are the target of certain drugs. Eligible patients who have those mutations will be randomized 2:1 to a drug that targets that mutated pathway versus a drug that is not known to target the pathway. Patients on the non-targeted therapy arm whose disease progresses will be allowed to cross over to a drug targeting their mutation(s). It is expected that MPACT will enroll about 180 patients.
Current targeted drugs studied in MPACT include the following (additional arms are expected to be added):
ABT-888 (PARP inhibitor) with temozolomid: Targets mutations in the DNA repair pathway
AZD1775 (MK-1775) (Wee1 inhibitor) with carboplatin: Targets mutations in the DNA repair pathway
Everolimus (mTOR inhibitor): Targets mutations in the PI3K pathway
Trametinib DMSO (MEK inhibitor): Targets mutations in the RAS/RAF/MEK pathway
ALCHEMIST
The ALCHEMIST ("Adjuvant Lung Cancer Enrichment Marker Identification and Sequencing Trial") trial will screen several thousand patients with operable, non-squamous, non-small-cell lung cancer to determine if their tumors contain specific molecular alterations that may make them eligible for treatment trial of therapy that targets that alteration:
Eligible patients with the ALK rearrangement would enroll on a randomized trial studying crizotinib (trial # E4512, led by ECOG-ACRIN).
Eligible patients with the EGFR mutation would enroll on a randomized trial studying erlotinib (trial #A081105, led by Alliance).
The screening portion will take place via Alliance trial #A151216.
In addition to the two randomized trials, ALCHEMIST will also contain a large discovery component:
Genomic analysis of primary tumor and blood on all screened patients, no matter if they have the ALK or EGFR alterations or not.
Genomic analysis of relapse tumor in patients who relapse.
Collection of plasma for circulating tumor DNA.
Epidemiological questionnaire.
The genomic analyses will be performed by research labs run by the NCI Center for Cancer Genomics. Genomic information will be linked to clinical and epidemiological information in a public database, enabling researchers to perform further studies on the data. (Data will be de-identified.)
Lung-MAP
The Lung-MAP ("Lung Cancer Master Protocol") trial was originally designed to test the tumors of patients with advanced squamous cell lung cancer, a type of non-small cell lung cancer (NSCLC), whose disease has progressed after one line of chemotherapy to determine if they contain certain genomic features, and match patients to one of the arms studying therapy for that target. In January 2019, the trial's eligibility expanded to include patients with all types of NSCLC.
Lung-MAP is a phase II/III trial containing several arms, each randomized to a control arm of a standard therapy. Patients not testing positive for one of the genomic features will be enrolled in the arm testing immunotherapy. Lung-MAP is a SWOG-led Intergroup trial (trial #S1400) funded through a public-private partnership via the Foundation for the NIH, involving NCI, SWOG, Friends of Cancer Research, Foundation Medicine, and several pharmaceutical companies. The trial will screen up to 1,000 patients per year. The genetic test used will be the Foundation Medicine genetic panel.
The Exceptional Responders Initiative
This retrospective study, which launched in 2014 and is now closed to accrual, examined the molecular characteristics of archived tumor samples from patients who had an exceptional response to a cancer therapy. The study explored the feasibility of collecting and analyzing data and biospecimens to better understand the biological basis of exceptional responses. Researchers reviewed the medical histories of more than 500 patients who were recommended by physicians for possible inclusion in the study.
The study included detailed medical histories and tumor samples from 111 eligible patients with various types of cancer who had received standard treatments, such as chemotherapy. For 26 of the 111 (23.4%) patients, the researchers identified molecular features that could potentially explain exceptional responses to treatment, such as the co-occurrence of multiple rare genetic changes in the tumor genome or the infiltration of the tumor with certain immune cells. NCI has also initiated a study of complementary and alternative medicine use, lifestyle changes and comorbid conditions and their medications in patients who are exceptional responders.
Publications
Molecular Features of Cancer Exhibiting Exceptional Responses to Treatment. Wheeler DA, et al. Cancer Cell. 2021 Jan 11;39(1):38-53.
The Exceptional Responders Initiative: Feasibility of a National Cancer Institute Pilot Study. Conley, BA, et al. J Natl Cancer Inst. 2021 Jan 4;113(1):27-37.
NCI Press Releases
Study of "exceptional responders" yields clues to cancer and potential treatments; November 19, 2020
Researchers report initial feasibility of identifying patients who are exceptional responders to cancer therapy; April 19, 2015
NCI's Future Precision Medicine Clinical Trials
Following the successful design and implementation of NCI-MATCH, NCI is planning three more precision medicine trials in areas of unmet clinical need.
ComboMATCH
Based on the results of preclinical studies, ComboMATCH will test targeted drug combinations in people with cancer. The goal is to overcome drug resistance to single-agent therapy through the development of targeted agent combinations based on the gene signatures of specific cancers.
NCI and the five groups in the NCI Clinical Trials Network (NCTN) are developing this trial, with ECOG-ACRIN managing the overall master protocol. Several treatment arms (subprotocols) will be organized into 'cassettes' that will have four to six treatment arms. Each NCTN group will be responsible for the management of a single cassette. The master protocol will contain rules for assigning patients to treatments and other guidelines.
People will be referred to this trial from the External Designated Laboratory Network, established as part NCI-MATCH, if routine NGS of their tumor reveals a qualifying alteration(s).
MyeloMATCH
MyeloMATCH is a novel precision medicine clinical trial portfolio that will evaluate treatments for acute myeloid leukemia (AML) and myelodysplastic syndromes (MDS). Previously untreated people with AML and MDS will be assigned based on their molecular and clinical features to a series of randomized clinical trials. The clinical investigations will target progressively smaller residual tumor burden more precisely over time.
NCI and the five NCTN groups are leveraging their informatics and clinical trials infrastructure to coordinate myeloMATCH. NCI's Molecular Diagnostic Network (MDNet) will perform the molecular tests. MDNet is an NCI-funded network of laboratories that will perform all the molecular and cellular biomarker assays for NCI's three new precision medicine trials for the purpose of assigning patients to treatment.
iMATCH
iMATCH will prospectively evaluate patients' immunologic profiles and tumor intrinsic markers for immunotherapy trials in a molecularly selected or stratified population.
Potential participants will undergo molecular assays to calculate their tumor mutation burden and tumor inflammation status; other biomarkers may be added if indicated for specific trials or regimens.
iMATCH will start as a pilot study with two tumor types stratified into four biomarker subgroups. The goal of the pilot is to establish the feasibility of upfront testing and subgroup allocation. MDNet will support the laboratory testing. SWOG will coordinate the pilot trial with participation from all NCTN groups.
Precision Medicine Oncology Research Networks
In 2016, DCTD had the opportunity through the Precision Medicine Initiative® to fund pilot projects in areas that were gaps in our understanding of anti-cancer drug and biological agent development as well as in the identification of biomarkers and the mechanisms of drug resistance. With the goal of advancing health and treatments for disease through research that considers the molecular makeup of each person's tumor, in September 2016, DCTD funded fifty-three 1-year supplements to already funded grants in six strategic areas of precision medicine oncology (PMO).
Building upon these supplements, NCI's Board of Scientific Advisors (BSA) approved five concepts in PMO in October 2016. Subsequently, Funding Opportunity Announcements that align with efforts of the Cancer Moonshot℠ and relate to the following five PMO areas were released: canine immunotherapy trials, pancreatic ductal adenocarcinoma microenvironment, immunoprofiling and biomarkers, treatment resistance, and patient-derived xenograft models.
The following Cancer Moonshot grants were funded in September 2017: