Last Updated: 04/25/2012
James H. Doroshow, M.D., FACP, Director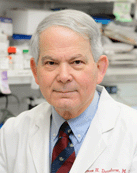 James H. Doroshow, M.D., FACP, has been the Director of the Division of Cancer Treatment and Diagnosis (DCTD), National Cancer Institute (NCI), National Institutes of Health (NIH), since 2004. He is responsible for integrating the activities of DCTD with NCI's other divisions and offices, as well as extramural scientists and clinicians, patient advocates, and professional cancer organizations. He leads over 800 DCTD professional staff who represent a wide array of scientific specialties in a multidisciplinary endeavor to discover and develop better diagnostic and therapeutic interventions for cancer. Since coming to the NCI, Dr. Doroshow has led the effort to modernize NCI's clinical research infrastructure through the efforts of the Clinical Trials Working Group, and has initiated several new programs to reinvigorate early therapeutics discovery and development across the institute.
Dr. Doroshow also oversees his own active laboratory program focusing on two lines of research: discovering the mechanisms that drive the anthracycline antibiotic cell death program, and understanding the role of oxidative signals in the development and treatment of solid tumors.
From 1983 to 2004, Dr. Doroshow was the Associate Director for Clinical Research at the City of Hope's (COH) Comprehensive Cancer Center in Duarte, California; the Chairman of the COH Department of Medical Oncology and Therapeutics Research; and the Leader of the COH Cancer Center's Clinical and Experimental Therapeutics Program. While at COH, he founded an early therapeutics consortium of three NCI-designated cancer centers in California funded by both NCI's phase I and II support grants. He was also the principal investigator for COH's membership in the Southwest Oncology Group (SWOG) and the founding Chair of the SWOG Early Therapeutics Committee.
From the time he received his first research grant in 1980, Dr. Doroshow was funded continuously by NCI and NIH until moving to NCI in 2004. He is the author of more than 300 full-length publications in the areas of the molecular and clinical pharmacology of the anthracycline antibiotics, the role of oxidant stress in signal transduction, and novel therapeutic approaches to breast, gastrointestinal, lung, and gynecologic cancer. Dr. Doroshow is a senior editor of Clinical Cancer Research and is a member of the editorial boards of several other journals. Dr. Doroshow served from 1995 to 2001 as a member of the Subspecialty Board on Medical Oncology of the American Board of Internal Medicine, from 1999 to 2000 as Chair of NCI's Scientific Review Group-A Cancer Centers, and from 1990 to 1992 as Chair of the NIH Experimental Therapeutics II Study Section. He served as a member of the U.S. Food and Drug Administration Oncologic Drugs Advisory Committee from 2004 to 2007.
Dr. Doroshow received his bachelor's degree, magna cum laude, from Harvard College in 1969 and his medical degree, Alpha Omega Alpha, from Harvard Medical School in 1973. After completing an internship and residency at Massachusetts General Hospital in Boston, he spent three years (1975-1978) as a clinical associate in NCI's Medicine Branch. He is board-certified in internal medicine and medical oncology.
About the Director

James H. Doroshow, M.D., FACP, has been the Director of the Division of Cancer Treatment and Diagnosis (DCTD), National Cancer Institute (NCI), National Institutes of Health (NIH), since 2004. He is responsible for integrating the activities of DCTD with NCI's other divisions and offices, as well as extramural scientists and clinicians, patient advocates, and professional cancer organizations. More…
DCTD Programs