Last Updated: 08/26/2016
Validated Pharmacodynamic Assay Training Course: MET Immunoassays
Researchers from NCI's Division of Cancer Treatment and Diagnosis (DCTD) recently developed and validated immunoassays that measure MET (hepatocyte growth factor receptor) protein and phosphorylation levels at key amino acid residues. The immunoassays quantify changes in intact MET and specific key MET phosphospecies (i.e., pY1234/1235) as a means to understand target pharmacodynamics, including molecular target engagement, mechanism of action, and duration of effect.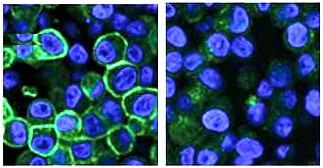 DCTD announces that the MET Immunoassays are being transferred to the cancer research community, with training and certification provided at the Frederick National Laboratory for Cancer Research (FNLCR) campus. The training course will provide guidance on user proficiency, maintenance of assay performance during transfer to outside sites, and uniformity across sites conducting the assay.
The training course will discuss:
Specimen Handling Standard Operating Procedures (SOPs) and preparation of tumor biopsy extracts in compliance with SOPs
Step-by-step performance of the Intact MET and Dual Phospho-Y1234/1235 MET Immunoassays, including instrumentation, data analysis and reporting, troubleshooting, and quality control
The importance of reagent quality and consistency for obtaining valid results as they pertain to the success of early-phase clinical trials
Learn more about the training course or contact Katherine Ferry-Galow (301-228-4665; ferrygalowkv@mail.nih.gov) for additional information.
Validated PD assays and specimen handling SOPs are integral to obtaining accurate information about drug effect on intended molecular targets in early clinical trials and informing clinical development. Additional training and certification sessions, including sessions on validated assays and SOPs for new drug targets, will be scheduled in the future. Read further information on DCTD's other validated biomarkers assays.