Last Updated: 04/25/2012
MAJOR ACCOMPLISHMENTS
More Phase 0 Activities
A new assay that has been developed for phase 0 trials measures the presence of γ-H2AX in tumor tissue. γ-H2AX is a phosphorylated version of the histone H2AX that is made when DNA is damaged in a cell. The level of γ-H2AX directly correlates with the amount of double-strand DNA breaks per cell. Thus, γ-H2AX can be used as a biomarker for DNA damage caused by chemotherapeutic drugs. The assay was validated using the DNA-damaging agent topotecan.
New drugs developed by CCR that produce double-strand DNA breaks will be monitored in phase 0/I trials using this assay. CCR developed these new agents in concert with the DCTD Developmental Therapeutics Program by searching for compounds that had characteristics of camptothecin, but were more potent and stable. In this search, the CCR team discovered a class of compounds known as idenoisoquinolines that will enter NCI clinical trials in 2008. By measuring γ-H2AX, researchers will be able to monitor how well the idenoisoquinolines hit their molecular target.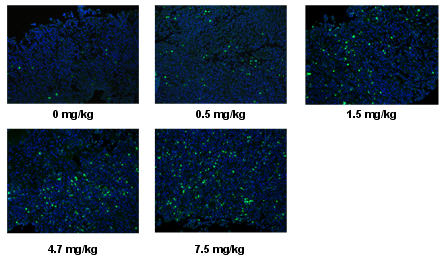 γ-H2AX response in an A375 human xenograft model 4 hours after a single dose of topotecan at the doses indicated.
See also: ABT-888 Phase 0 Study (Archived Article)
About the Director

James H. Doroshow, M.D., FACP, has been the Director of the Division of Cancer Treatment and Diagnosis (DCTD), National Cancer Institute (NCI), National Institutes of Health (NIH), since 2004. He is responsible for integrating the activities of DCTD with NCI's other divisions and offices, as well as extramural scientists and clinicians, patient advocates, and professional cancer organizations. More…
DCTD Programs