Last Updated: 04/30/2012
Cancer Imaging Program (CIP)
Introduction
The Cancer Imaging Program (CIP) of the NCI Division of Cancer Treatment and Diagnosis (DCTD) is an innovative program that encourages coordination and collaboration among experts in basic, translational, and clinical research to advance the understanding of cancer through imaging and to create better diagnosis and treatment options for patients.
Imaging is an enabling scientific discipline combining advanced technology and complex computational and analytic methods to provide a unique ability to extract spatially and temporally defined information from in vivo systems. Imaging allows the interrogation of an intact biologic system across the spectrum from sub- cellular to macroscopic and from discovery to clinical decision making. In the last decade, major advances have been made in our understanding of tumor systems in part due to advanced imaging that has not only made strides in spatial and temporal resolution but progressed from anatomical to functional, physiological, pharmacodynamic, and molecular domains.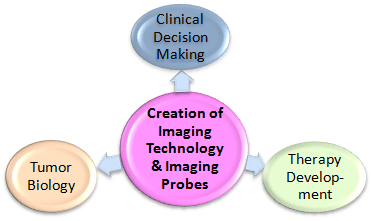 The role of imaging in cancer research is changing, and CIP continues to be a catalyst for this transformation. In the past, the focus of imaging research was creating clearer and more detailed anatomic pictures of organs and tissues. Today, the primary thrust in imaging is on functional or molecular imaging, which visualizes the physiological, cellular, or molecular processes in living tissues as they occur. Molecular imaging is critical for fundamental improvements in the care of cancer patients. While we continue to discover new molecular signatures of cancer in our crusade to develop more effective therapies with lower morbidity, these efforts can be successful only through understanding how these targets integrate into the complex systems of tumor biology. In vivo molecular imaging is a unique method to acquire this knowledge by noninvasive visualization of the entire organism.
In the next decade, CIP-sponsored research will not only contribute to the basic understanding of various cancers, but it will enhance the clinical role of imaging in noninvasive diagnosis, help identify disease subsets in patients, improve disease staging and treatment monitoring, and play a pivotal role in the development of new therapies.
CIP unites researchers from disciplines as diverse as radiology, nuclear medicine, bioengineering, biology, chemistry, com­puter science, and physics in a team approach to problem solving. The program encourages extramural researchers to integrate and apply new imaging discoveries and developments to drug discovery, monitoring of therapies, and understanding cancer biology. This is all directly aimed at the clinical management of cancer and cancer risk. CIP divides its staff and administered grants among four areas:
Clinical Trials
Molecular Imaging
Image-Guided Intervention
Imaging Technology Development
Through this organization, CIP supports and advises innovative investigators in academia and private industry as they create and apply to human disease the next generation of imaging technologies, including molecular probes, imaging devices, new contrast agents, and image guided therapies.
As part of its cutting-edge program, CIP plays a critical role in the activities of the National Institutes of Health (NIH) and NCI, contributing to the integration of imaging with emerging technologies such as nanotechnology, proteomics, and high-throughput screening. In addition to funding projects in key areas, CIP supports researchers by providing pooled resources and develop­ing protocols that encourage the sharing of data, samples, and results. CIP's portfolio included 357 funded grants during fiscal year 2010, supporting all areas of medical imaging research.
About the
Associate Director

Paula M. Jacobs, Ph.D., is Associate Director, Cancer Imaging Program in the Division of Cancer Treatment and Diagnosis at the National Cancer Institute. She came to work at the NCI after 30 years in the pharmaceutical and medical device industries where she was a key developer of ultrasmall superparamagnetic iron oxide drugs as magnetic resonance imaging agents and iron replacement therapeutics. More…
For More Details
About CIP


Visit the CIP Website